Enemies
Maxim Gorky, in a new version by David Hare
Almeida Theatre
(2006)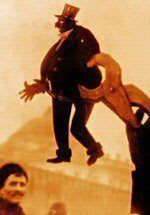 The similarities between the work of Maxim Gorky and Anton Chekhov are almost too obvious to be worth mentioning. Indeed, with a few rough edges removed, Enemies is a play that Chekhov might have written had he lived long enough to observe the 1905 Russian Revolution.
Chekhov shows the changes that are beginning to affect both rich and poor and his characters see change like distant smoke on the horizon. For Gorky's protagonists, only a few years on, the flames of Revolution are lapping at the walls of their homes.
What the centenary year of this play has also thrown up is a fascinating comparison between Gorky's vision of class struggle in Russia and, in The Voysey Inheritance at the National Theatre, Harley Granville Barker's view of the much gentler problems facing the wealthier classes in England at the same time.
Michael Attenborough's production is graced by a lovely opening set designed by Simon Higlett with a forest in the background and a garden terrace complete with tables and an antique samovar. This converts after the interval to a shabby, unused ballroom that prefigures the long-term impact of the revolution on old money.
The theatre's artistic director also treats himself to a cast of twenty or more that struggles to fit on stage for the curtain call. This allows him to present enough workers and soldiers to give the feel of underlying threat that this play requires.
It also means that the families at its centre contain enough contrasting types to allow for meaningful, if often rather wordy, debate.
The location is the house owned by factory owner Zakhar Bardin, played by Sean Chapman. His attitude to the workers has been coloured by his background as a landowner with a patriarchal responsibility for his serfs. This is contrasted with the hard-nosed industrialist, Sean Gilder's Mikhail Skrobotov.
The situation as the curtain rises is tense with these two partners at loggerheads over the correct attitude to take as the workers become emboldened by Socialist colleagues and begin to demand their rights.
The two factions represent views that are poles apart. The Skrobotovs, including Mikhail's awful, snobbish wife, see this as a battle to the death, in order to preserve their way of life.
Bardin and his family wish to get on with their workers. Indeed, his brother and sister-in-law and also his niece would happily do far more than that.
Jack Davenport, heartthrob from This Life, Coupling and Pirates of the Caribbean, plays lazy, dissolute brother Yakov who drinks to forget the unhappiness that he suffers because his wife does not love him.
The star of evening is Amanda Drew who plays his wife, Tatyana. She is a glamorous, if rather bored, actress who turns every man's head, even that of the chilly public prosecutor Mikhail's brother Nikolai.
She also acts as mentor to young Nadya, her niece by marriage and daughter of a poor but decent and deceased mother whose lifestyle did not meet with the approval of some of her snootier relatives, including Patrick Godfrey as an irritatingly potty old general.
The action is accelerated as Mikhail's own gun is turned on him and, in different ways, his wife and brother seek revenge for their whole class. Not only is the murderer arrested but sixteen of his colleagues are rounded and beaten up as part of the process.
The real motivation is not to catch the murderer but to suppress Revolution and underlying socialist tendencies, whether these come from organised agitators like Toby Kebbell's Sintsov or ordinary workers like Levshin (Edward Peel).
Sir David Hare is known as a political playwright and has written a script full of pacy contemporary language with no fear of slang. It is easy to see why he might have selected Enemies, even had it not been celebrating its centenary. Some of the subjects under discussion are still as relevant today as they were in Russia 100 years ago. When Jodie Whitaker as the highly idealistic but wholly unrealistic 18 year-old Nadya preaches universal equality, the theatrical knight must surely have been nodding in agreement.
Enemies is not quite Chekhov and can get lost in its own political debates. Running at only two-and-a-quarter hours in this version though, it presents a fascinating look at a country in turmoil, seen through the eyes of a wide variety of characters, some fleshed out rather better and more fully than others.
Playing until 24th June
Reviewer: Philip Fisher