An Enemy of the People
Henrik Ibsen in a new version by Rebecca Lenkiewicz
Arcola Theatre
(2008)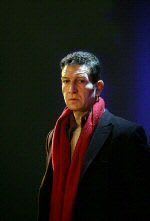 Rebecca Lenkiewicz has breathed fresh life into an old classic with a new version that uses visual, imagistic modern language to show us that though An Enemy of the People is over a century and a quarter old, its message is still vitally relevant today.
There are few plays that have a sadder central figure than Thomas Stockmann, an optimistic idealist whose belief in truth destroys his life and family but never his spirit.
Having commissioned this new version, the Arcola's Artistic Director Mehmet Ergen shows his own vision, with a large cast including some really strong actors in the central roles.
He maintains the pace of this play of ideas effortlessly through two hours and twenty minutes, making it the equivalent of a page-turning novel but with intellectual depth and compassion.
Greg Hicks plays Stockmann, a doctor who loves his home town. It has become a spa, relying on the local spring for prosperity. The doctor spends a year proving a theory that the actual and metaphorical source of its wealth is "a contaminated death-trap".
Initially, this local hero becomes "a friend of the people" hailed by all, led by the local newshound, Daniel Rabin's Hovstad. The only oppositional voice is the town's Mayor, coincidentally also the doctor's grim brother, played by Christopher Godwin with the demeanour of an undertaker. Their feud eventually leads to the evening's highlight, a full-on sibling spat with no holds barred.
Gradually, the people turn on the representative of honesty, as the economic facts are put to them. If they support the revolutionary ideas of the man they now regard as a crackpot amateur scientist, then the spa will run dry and the public coffers will not be far behind. At a dramatic public meeting, the recent hero is roundly condemned.
All that is left is escape, aided in this production by three Irish actors. Alison McKenna and Fiona O'Shaughnessy playing his supportive mother and daughter do their best but the noblest support for Stockmann comes from a selfless sailor Captain Horster, sympathetically portrayed by Sean Campion.
While they and Godwin are good, Hicks excels with power but also great pathos as his noble character buckles and bends but, in an optimistic ending, honourably stands up for truth in the face of blackmail from almost everyone that he meets.
This play could be seen as a futuristic prediction of the way that whole countries would look the other way as totalitarian hypocrisy triumphed. While it is a great entertainment in its own right, perhaps that is why it feels so important today.
Where Christopher Hampton's version for the National Theatre directed by Sir Trevor Nunn a decade ago starring Sir Ian McKellen entertained but felt long (and was a full three hours), this new rendition flies by, gripping from start to finish. For anyone that can find Ibsen dry on occasion, Rebecca Lenkiewicz's An Enemy of the People should be compulsory viewing.
Reviewer: Philip Fisher