English National Ballet School Mixed Bill
Choreography Juan Eymar / Joseph Toonga / Le Wang / Mauro de Candia
English National Ballet School
Sadler's Wells Lilian Baylis Studio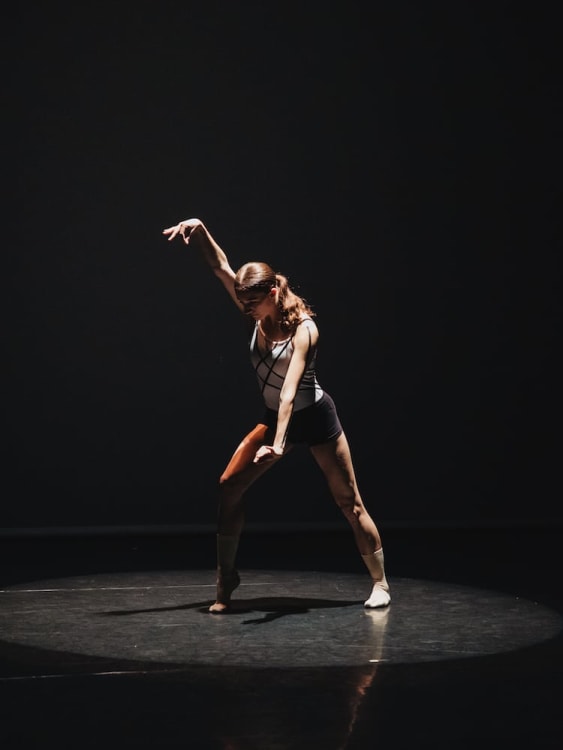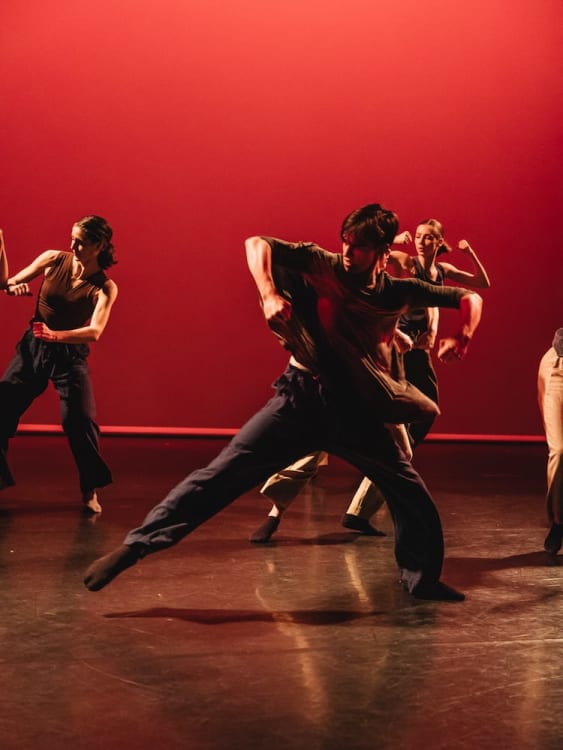 A mixed bill of four specially commissioned works, across the spectrum of classical and contemporary dance, is attacked with vivacity, delicacy and flair by the eighteen dancers of the English National Ballet School's Professional Trainee programme, "launched in direct response to the ongoing pandemic."
Four choreographers from different disciplines and cultures give these emerging dancers a chance to shine in the Lilian Baylis Studio, where there is nowhere to hide. They are up close and personal for scrutiny. And there are nerves, but these are banished as soon as the music starts—sadly not live.
The first neoclassical long piece is by Juan Eymar to Edvard Grieg's gorgeous neo-baroque Holberg Suite. Twelve dancers in shades of blue, the lead couple in grey, illustrate its five movements with feeling and care. There's something Balanchinean about the framing, positioning and partnering of dancers. An allegro vivace Prelude followed by an andante Sarabande, an allegretto Gavotte, then a divine andante religioso Air, to finish with an allegro con brio Rigaudon.
It's an ambitious piece, which certainly puts the dancers through their paces. In various permutations, solos, pas de deux, de quatre, de six and so on. Earnest, then in lighter gamboling mood, the boys show off, then the girls. It's full of the joys of spring and the pensiveness at twilight. Of first love, and soulful endeavour. The girl in grey stands out—I'm guessing it's Valeria Garcia, but it's not clear from the programme. She catches my eye throughout the evening.
Talk about change of style and pace... Joseph Toonga's In Motion We Feel to Natacha Atlas and Jocelyn Pook Remix by Orin Norbert jolts us awake from the previous dream. I love it and the seventeen dancers (all female but for one male) give it their all—lower body and legs classical / contemporary in pointe shoes, upper body and popping arms are club and street. Very eloquent, too, though this vocabulary doesn't seem to suit all of them. Toonga is the Royal Ballet's Emerging Choreographer, and I imagine what someone like Sylvie Guillem would make of it crossed with Boy Blue. It's full of swagger, the bodies calligraphic, and it doesn't outstay its welcome.
After the interval comes a very short solo, Lead, for Elizabeth Riley from Le Wang to music by Jean-Marie Leclair. I love the baroque. Harpsichord and strings are reflected in Amy Howard's costume design, a simple leotard, black at the bottom, white at the top crisscrossed with black lines, which are also etched down her bare arms. Riley (in contemporary mode) honours the music, by extension an instrument herself. Leclair was a violinist as well as a composer.
The final piece is dance theatre and the ten girls dressed as identical Pierrots (or should I say Rigolettos and Pagliaccis) in pink-red ruffs on flesh bodies send themselves and opera up with delicious delight. Ballet was always considered second fiddle to opera—well ballet gets its own back, opera is used and traduced in Mauro de Candia's Velvet. It's spot the opera time. The operas chosen are familiar, but my ears hurt—the sound system here really is a pain. They shout for the maestro—I'd like to shout for the maestro.
Preening in spotlights, competitive, jealous, pushing others out the way, cavorting in ridiculous pranks on the floor, bums in the air, legs cycling. The choreography has borrowed from music hall, silent film—though they are not silent. Pulling faces, screaming, making eyes at their public, I marvel at the logistics of the piece.
You can imagine what they do to Mozart's Magic Flute and Papageno. There's Bizet's Carmen, the Habanera and the Toreador song more comique than tragique. Verdi and Puccini are given short shrift. I think of Fellini and the Trocks. And like the performers who can't get enough of the limelight, this lot don't know when to stop—that's the joke. The audience give it a standing ovation (even join in the recorded applause halfway through), and that is just the encouragement students about to launch themselves on the world need, not a critic's eye. We're all "merely players".
The last time I reviewed the English National Ballet School was their Virtual Summer Performance in July 2020, and as then (on screen), here the mixed bill (on stage) is introduced by Director of Dance Viviana Durante (I might add, the best Giselle, in partnership with Irek Mukhamedov, I've ever seen). They are in good hands.
Reviewer: Vera Liber