Enron
Lucy Prebble
Chichester Festival Theatre
Royal Court Theatre Downstairs
(2009)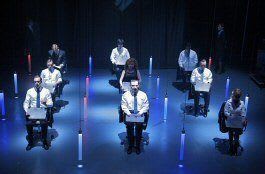 Enron is one of those magical theatre experiences that somehow manages to be much more than the sum of its parts. In this case, those parts are not inconsiderable, which goes a long way to explaining the appeal of what could easily sound like a dull evening.
Since Caryl Churchill's classic play about City greed, Serious Money, at the same theatre 22 years ago, there has been no major theatrical exploration of the world of finance, though Steve Thompson had a foray with Roaring Trade earlier in the year.
Lucy Prebble, with what is only her second play, has hit the big time thanks in part to a tremendous knack of making complicated financial concepts seem simple.
The young writer's good fortune is to have collaborated with one of the best directors in the business, Headlong's Rupert Goold. He injects the energy and pacing of a music video, aided in an attractive Anthony Ward design by John Driscoll's videos and some really novel lighting from Mark Henderson.
The final element is a strong ensemble cast, led by Samuel West at the very top of his game, well supported by a trio of actors each of whom is very nearly as good.
The name of American energy company Enron has become legendary as a symbol for the kind of financial disasters that have become all too common in the last 18 months, as the world has collapsed into recession.
In a stream of short scenes stretching to around 2¾ hours, we follow the rise and fall of Jeffrey Skilling, first seen as a geeky misfit who seems destined to stay locked away thinking up bright but impractical ideas.
Soon, though, when Enron's head Marc Rich leaves the company, its chairman and kingmaker, Tim Pigott-Smith's Kenneth Lay, a pal of George 'Dubya', must choose between two contrasting personalities and business models.
The smooth, sexy Amanda Drew plays Claudia Roe, the answer to every man's dreams, competing with her nemesis, the apparently far less suitable Skilling. In that choice, the fate not only of the corporation but also millions of investors and employees is sealed.
In no time, the geek turns into a kind of sharp-suited Superman with the vision to create a completely new business model. Claudia Roe believed that the way to make money was by selling energy; her competitor builds up an empire on little more than thin air.
The creative team delves into the world of fantasy in an effort to entertain, particularly when a Skilling clone with an accounting background, Andy Fastow played by Tom Goodman-Hill, arrives on the scene.
He takes the business and its losses far off-balance sheet with the result that its share price rockets into the stratosphere. The visual metaphor used is wickedly ingenious, as the hidden companies that swallow debt are represented by reptilian monsters from Jurassic Park.
Following the simple maxim that what goes up must come down, our hero and his corporation, having hit the heights, like a bubble instantly disintegrate following a single phone call from Fortune magazine.
The question that might never be answered is how the most sophisticated financial minds that the world can produce could have been duped into ignoring entry-level accounting and economic principles when swallowing the Enron lies.
This production, which started life in Chichester, has already sold out its run at the Royal Court and booked in to the Noël Coward Theatre next January with Broadway also lined up to later in the year.
It will undoubtedly continue to wow critics and public alike, thanks to an almost Shakespearean sweep and highly imaginative production values featuring everything from song and dance to puppetry and film, gripping real-life drama and an almost sympathetic central character. There are even three blind mice and sadly, a pair of hilarious Siamese twins called the Lehman Brothers.
As they say in all the best publicity material, "if you're only going to see one new play this year, make sure that it's Enron". More realistically, if you haven't already got a ticket for the Royal Court, don't miss out on the West End transfer.
Playing until 31 October
Philip also reviewed the West End transfer of this production
Reviewer: Philip Fisher