Enron
Lucy Prebble
Noël Coward Theatre
(2010)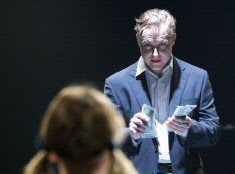 It is hard to find enough superlatives to describe Lucy Prebble's multi award winning, in depth exposé of the world of high finance and the reasons behind its spectacular collapse.
With help from Rupert Goold, who earlier on the day of the West End opening had been awarded Best Director by the Critics' Circle for Enron, she turns a complex and potentially dull subject into an enthralling, sometimes hilarious evening.
The scope of this work is truly Shakespearean, as three hours fly by, filled not only with the tragic rise and fall of a Texan energy company worth more than most countries but so much more.
There is love and intrigue, greed and hatred, but also human interest, as well as a quartet of loveable Raptors with an insatiable appetite for debt, straight out of Jurassic Park.
The central story views the company through the quartet at its head. The marvellous Samuel West, at the head of a well-drilled and talented ensemble, plays Jeffrey Skilling, a genius who starts out looking and acting like the kind of nerd often portrayed by Philip Seymour Hoffman on film.
He screws and then usurps Amanda Drew's sexy but ruthless Claudia Roe, prior to a verbal duel to the (career) death, from which he emerges as a handsome man who could easily become a pin-up for women who drool over men of power.
The ineffectual man who lets it happen is the oafish Kenneth Lay, played with deft humour by Tim Pigott-Smith, more use on the golf course than the boardroom but a close friend of George Dubya and thus of value, as the 2000 election and the company's fortunes both turn on those immortalised dimpled chads.
Lower down the ladder but equally critical to the company's stock market ascendancy is budding CFO Andy Fastow portrayed by Tom Goodman-Hill. This red-headed geek was a manic superstar accountant, taking fraud to new heights using shadow companies like Russian dolls, as the energy-less energy company rose to unprecedented heights before a crash and burn of epic proportions.
While Lucy Prebble has written a play with the kind of page-turning qualities more often associated with chick-lit, she does not duck the complexities of finance, patiently describing Skilling's favourite Mark-to-Market and Fastow's Creative Accounting that together built the multi-storey house of straw. She also has the knack of creating challenging but appropriate analogies and metaphors to aid understanding of these issues.
The text itself is very special but Rupert Goold's direction takes the experience to a different level. This is theatre for a new audience, perhaps more familiar with pop videos. They will lap up its breathless pace and energy and the adventurous use of multimedia effects as well as song and even a little dance.
Together, they immure the audience in the life of big business, how Enron shot up and spiralled down and the impact that this had not only on those with influence, but the little people who lost their capital and with it their hope.
This is achieved thanks to the collective efforts of Anthony Ward, who designs his set around a gigantic video wall, John Driscoll's videos and sometimes spectacular lighting from Mark Henderson.
The detailed embellishment of the story almost always proves to be a revelation both humorously and from a journalistic viewpoint. Whether it is the three blind mice representing the company's Board, the Arthur Andersen puppet, blindfolded (unnamed as they have survived) legal advisers or the extremely funny Siamese Twin Lehman Brothers, Prebble and Goold unerringly hit their satirical targets.
As it hits the West End after sell-out runs at Chichester and the Royal Court and with Broadway still to come, Enron looks capable of achieving what Enron could not, sustainable financial success. It should also delight audiences for years to come.
Philip also reviewed this production at the Royal Court
Reviewer: Philip Fisher