Enter Ghost
Isabella Hammad
Jonathan Cape
Released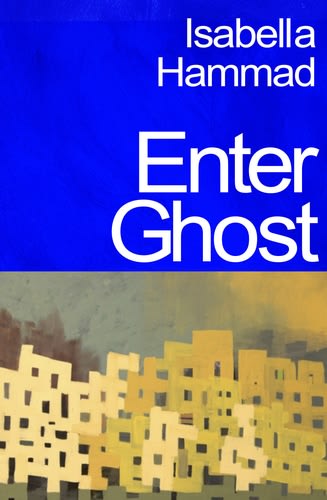 Enter Ghost is a multi-layered novel that explores three main themes in great detail within its 323 pages, most of which are presented in standard prose but some inventively transformed into theatrical-style dialogue.
It follows the experiences of Sonia, a London-based jobbing actress in her mid-30s through two timelines. In the present day, the Anglo-Palestinian makes a journey to see her elder sister in Haifa, while at the same time recalling and reflecting on past experiences in the UK and Israel.
Sonia's initial impulse for the trip is the closure of a production of The Seagull in which she played Arkadina and then faced a second ending—of her affair with the selfish, married director of the play. Her visit to Israel inspires a return to the past, allowing Sonia to explore her responses to a failed marriage and two terminated pregnancies but also the Palestinian experience.
This, in turn, offers several different paths—the lives of those who live in the occupied West Bank having little in common with their fellows on the other side of the border wall in what they refer to as "the inside", i.e. Israel. Going a step further, Palestinians living overseas view their homeland at a further remove.
While the break was intended purely as a holiday, Sonia's sister Haneen (who works in an Israeli university and struggles with her own challenges) introduces her to a theatre director, Mariam, who is about to embark on an Arabic version of Hamlet, for which neither of the leading female characters has been cast.
As soon as Sonia reluctantly agrees to sit in and read Gertrude and Ophelia, there is a sense of inevitability and she soon agrees to play the two roles in a short run that has garnered inexplicably substantial funding.
That has been inspired by two of Mariam's relatives, her high-profile politician brother, who is briefly arrested, and a heartthrob, pop star cousin, cast as Hamlet despite never having previously acted.
Having set all of this up, Isabella Hammad expertly weaves together a touching and sometimes frightening vision of the difficulties faced by Palestinians from 1948 to date, a psychologically astute portrait of Sonia and her fellows and complements these themes with a detailed insight into the theatrical rehearsal process. The latter will be of special interest both to professionals and those who enjoy their theatre from the other side of the footlights.
We are also asked to consider whether one of Shakespeare's great and most adaptable tragedies can be interpreted as a direct commentary on the Israeli-Palestinian conflict through Intifadas and more mundane daily indignities and disputes.
As in real life, some underlying threads are left unresolved, as a powerful exposé of life for Palestinians combines with the tale of a play coming to life and overcoming obstacles large and small, whether political, personal or dramatic in a finely written, thought-provoking novel.
Reviewer: Philip Fisher