Entity
Wayne McGregor
Random Dance
Sadler's Wells
(2009)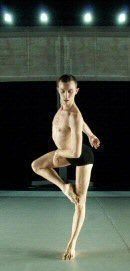 Wayne McGregor's restless touring dance company Random Dance stops off at Sadler's Wells, the scene of its highly acclaimed premiere in April 2008, for only three performances of Entity before it moves on in global conquest.
Much has been written about Entity, not least by McGregor himself, who explains in some detail, in the programme notes, his insatiable curiosity about the brain and body connection, his on-going research project, Choreography and Cognition, with neuroscientists at the department of Experimental Psychology at Cambridge University, and an ambitious aim "to create a series of artificially intelligent autonomous choreographic agents "
The science of art the art of science explored in dance form - solos, duets, trios, and mutating group formations - makes huge kinesthetic demands on the performers and the viewers.
Complex dense choreography, a new vocabulary and grammar of dance, against Ravi Deepres's video projections on Patrick Burnier's stage-framing canvases, glider wings on derrick arms, to the diptych sounds of Joby Talbot's string-loaded Motion Detector and Manual Override and Jon Hopkins's five sections of pulsating electronica and acoustic drum and bass rhythms - we have lift-off or sensory overload - depends on one's cognitive capacity And what we bring to the dance.
A greyhound in perpetual 'Muybridge' motion, the beauty of mathematical sequences, equations, numerals taking flight and transforming into Hitchcockian flocks of birds, microbes and interlocked cells - the underpinning wonder of Darwinian evolution in all its provisional beauty and potentiality. Lucy Carter's subdued lighting draws geometric shapes on the floor - the dancers are Da Vinci's Vitruvian Man playing hopscotch.
Visual stimuli and a concentrated assault of the senses scramble the brain, and draw the eye away from the ten amazing dancers, who deserve Olympic medals for their hour-long, non-stop sprint through McGregor's contrary uncompromising idiosyncratic choreography. One fears for their future, the wear and tear on their over-articulated joints.
Dressed in black underwear and white vests imprinted with their personal DNA signature (so we're told), the dancers, most classically trained, though McGregor isn't, are his tools for exploring physical feats - how far can the human body be pushed into asymmetrically deformed poses, chests puffed like turkey cocks, spines overarched in sickle shape, bottoms out in counterbalance. Boneless bodies undulating, rippling, intertwining, crabs scuttling, birds in flight, animalistic, exploring space and each other's limits, sensual, sexy...
Replicants in McGregor's distinctive image - sure there's a splash of Merce Cunningham and William Forsythe in his DNA - McGregor trained at the José Limón School in New York, after all - but he is unique.
Unique and exciting. Maybe not to everyone's taste, not to Clement Crisp's evidently - heartless technology, and one can see his point - but once seen, never forgotten. The sheer inventiveness, if sometimes repetitive, infects, inspires, and propels. And emotion does seep in as the dancers hang on each other, nuzzle, make a creature of two backs. Part of the animal kingdom, and precise manipulated machines with angular flexes, splayed hands, claw fingers.
The honed and toned dancers are jaw-droppingly stunning in execution, commitment, complicity and compliance - they have billing as collaborators in the choreography. Control, balance, flexible strength, frenetic speed - centrifugal forces in confined space - bodies as whirling cogs in a constructivist machine and willing clay in the hands of a questing impatient creator, sculpting in time and eternal motion
Reviewer: Vera Liber