Eonnagata
Created by Sylvie Guillem, Robert Lepage and Russell Maliphant
Sadler's Wells
(2009)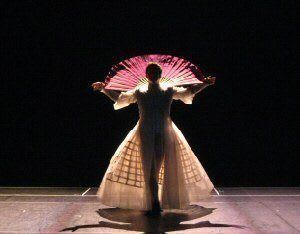 An embarrassment of riches or too many cooks who haven't quite got the recipe right yet - the collaboration between the superstars of theatre, dance and fashion looks amazing on paper but in reality feels a work still in progress. Too much in the mixing pot perhaps - each element is wonderful in itself but the whole is not equal to the sum of the parts.
This is Sylvie Guillem's project - another reinvention now that she has hung up her pointe shoes. She boldly proposed an equal collaboration to the master of theatrical illusion, Robert Lepage. By equal she meant he had to do more than direct - he had to perform too with her and Russell Maliphant, both of whom have proved a dynamic chemistry between them, she with her unique talent and daring, and he with his martial arts inflected choreography, as seen in their acclaimed Push and Broken Fall.
Lepage would add more spice. As would the giant of the fashion world, Alexander McQueen. Lepage also brings with him sound designer Jean-Sébastien Côté.
But Lepage is a self-acknowledged storyteller, so, although he shows that aged fifty he can move without embarrassing the two dancers, he needs to tell the story of the Chevalier d'Eon, Charles de Beaumont, who spent half his life as a man and half as a woman partly by royal decree. Soldier, diplomat, swordsman, writer, and transvestite spy for Louis XV: was he male or was he female? The debate was only resolved after his autopsy.
In the way of fairytales some of the narration is in verse (straining at comic lightness), and from the chevalier's letters. Guillem and Maliphant speak - not playing to their strengths, but Eonnagata is obviously all about not playing to strengths but challenging each performer with new territory. Audibility is poor, Guillem speaks too fast, and Maliphant shouldn't.
Dramatically lit by Michael Hulls, Guillem opens. A solitary figure in McQueen's red billowing cloak over white muslin, she narrates a prologue - from Plato's Symposium (the speech of Aristophanes on three human genders, on the androgynous as well as the male and female). The parent of the combined gender was the moon.
To this third gender and the moonlight are added the Kabuki onnagata, the male actors who portray female roles, and hence the punning title Eonnagata All very carefully calculated.
All three performers explore different aspects of the mysterious chevalier via these allusions and references as they present a collage of his life. The complexity of human nature; the fight between head and heart.
Lepage's playful stage trickery dominates - a magic lantern show of silhouettes, set pieces (a giant geisha from whose kimono climbs Maliphant; a giant figure in death mask and black cloak - very grand guignol), a sword as writing quill, and the symbolism of four hands caressing Guillem's body (unintentionally comic, I'm sure). Guillem and Maliphant are puppets in the grand master mountebank's toolbox. How does he have them slide up the side of a mirror at the tip of his stick?
More dance mime theatre than ballet, with distracting voiceovers muffled by the music, the episodic 90-minute hybrid creation (which felt too long) is visually and aurally striking - how could it not be? Hulls's moonlight, Côté's mix of Bach, Pergolesi, harpsichord and violin, percussive beats, thunderous and ambient sound effects, McQueen's cross-gender crinolines, black silk frock coats, spectacular kimono, white diaphanous muslin yukutas, and unitards (Guillem's has a small codpiece bulge), and Lepage's magical staging. But they do not gel - yet. First they tell (there's a groan-worthy joke about being buried in Middlesex ); then they show.
Flashing swords, aikido sticks, erotic play with fans and tables - tables to slide across, topless tables as door frames, as boats, mirror-top tables upended to reflect the other half. Table as dissecting slab with an overhanging light swinging like a pendulum over the corpse - attended by Maliphant and Guillem in white Courrèges-inspired maxi-length clinical coats.
A pendulum - the metaphor for gender swing, and for me a metaphor for my ambivalence towards the production. But, Lepage's productions are renowned for their evolving states, and when Eonnagata returns later this year (end of June) maybe we will see a transformed work of art.
Till 8 March & then 23/24/26/27 June 2009
Reviewer: Vera Liber