The Estate
Oladipo Agboluaje
Soho Theatre
(2006)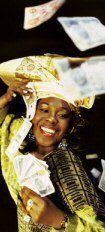 First of all, it is a pleasure to welcome that real London rarity, a play that takes place in Africa and looks at it from an insider's viewpoint.
If the costumes were different and the setting further north than Lagos, the Adeyemi family and their acolytes could have come straight out of The Cherry Orchard.
Soho writer on attachment Oladipo Agboluaje has written a Nigerian comedy of manners that starts off like African Coward but eventually veers towards farce.
The scene is set with great style by designer Ultz who creates a simple living room, overshadowed by garish family portraits. He inhabits it with manifold beautiful costumes reminiscent of the most colourful of butterflies. Add in Akintayo Akinbode's lively music and a steamy evening and one can almost imagine being transported to the Nigerian capital.
The event which brings together the members of the clan is a sad one. Papa the patriarch has died and his two families come together for the wake.
This was always likely to be a difficult period, as not only are his relations in mourning but the sins of the father have made life awkward for the sons. Yinka and Soji (Richard Pepple and Kwaku Ankomah) have travelled from successful but brittle lives in the USA and UK to meet the former house girl who has become their stepmother.
The bombastic, larger than life Helen, played with gusto by Ellen Thomas, is bolstered by her daughter Sola and a priest who heads his religion in the country. As a result of the original actor's disposition, director Femi Elufowoju Jr. has taken on the role of the randy vicar who was the family's driver but ends the play as their landlord.
It is hard to believe that life in Nigeria is quite as farcically comical as Agboluaje portrays it. In true Feydeau style, the priest sleeps with all of the women, brother with sister, everyone with spunky serving girl Abasina, and it is fair to assume that every other heterosexual coupling has probably taken place at some point, or will do so.
The messages are pure Chekhov, as the overbearing, traditional gentry have finally spent their money and the nouveau riche are poised to take over. The real losers will not be the children who have lost their birthrights. They will fall back on their university education and connections.
It is the faithful retainers - loyal septuagenarian Afolabi played with wit by the far too young Nick Oshikanlu and the house joker, Wale Ojo's Ekong - who must make their own way without the traditional paternalistic support.
The Estate has its funny moments and some great African jokes but eventually gets a bit lost in a maze of relationships that feel as if a whole month of EastEnders plots were conflated into two and a quarter hours. There is also a weird patch in which characters almost literally line up to let a whole family of cats out of their revelatory bags.
Oladipo Agboluaje shows a real ability to create lovably colourful characters. He also has a gift for the kind of enjoyable but not terribly challenging light comedy where everyone wears their heart on their sleeve. In time, he might benefit from allowing them to relax and give the breathless passion an occasional break for reflection or contemplation. Then they might become three-dimensional human beings who really enrich the drama.
Reviewer: Philip Fisher