Eugene Onegin
Alexander Pushkin, concept, script and direction Rimas Tuminas
Vakhtangov Theatre, Moscow
–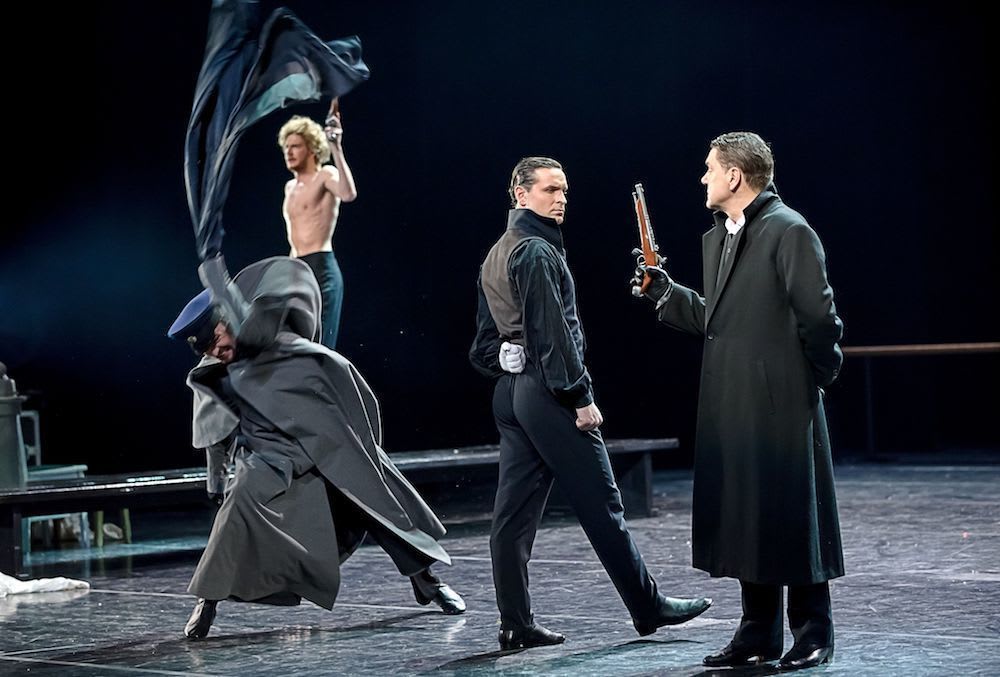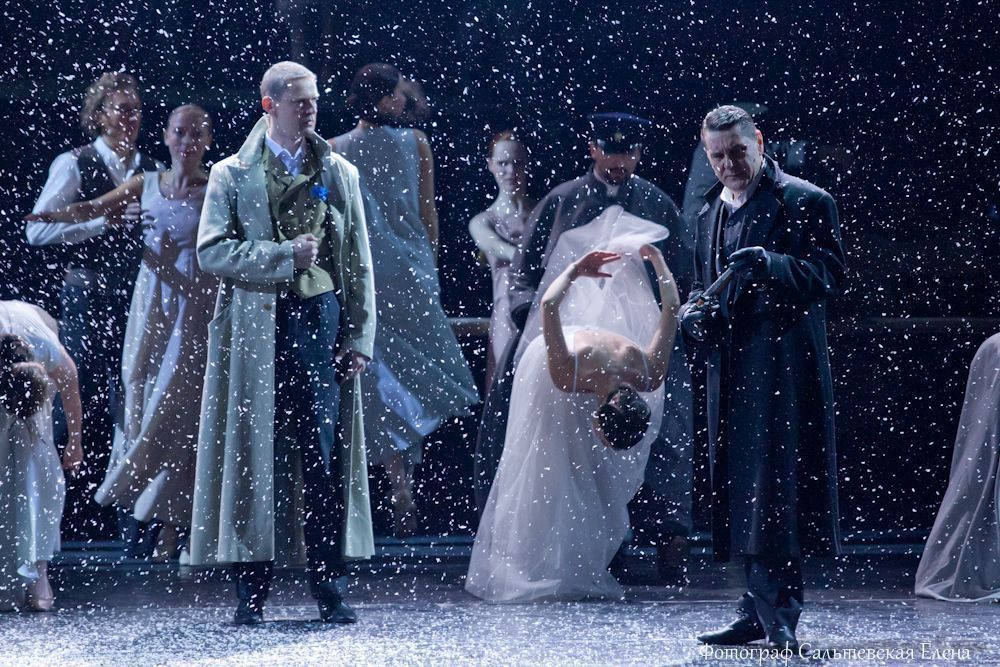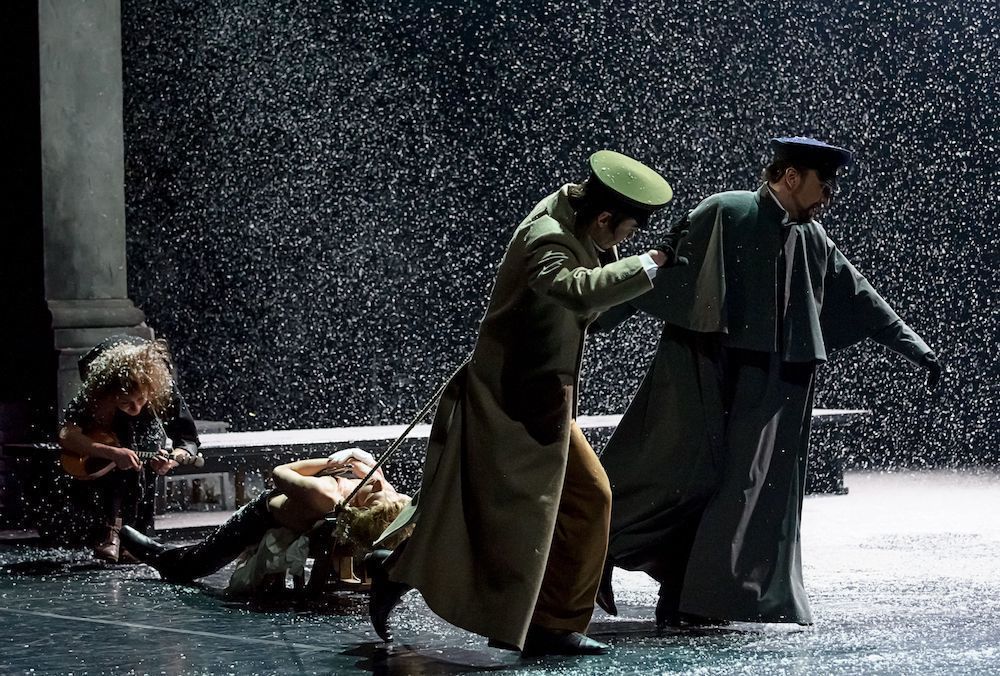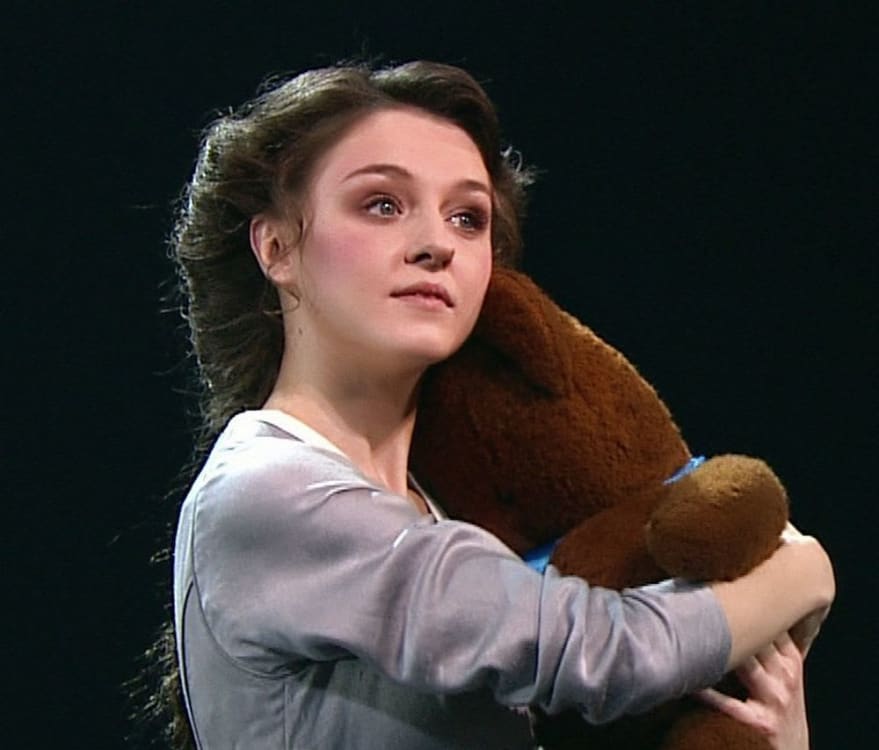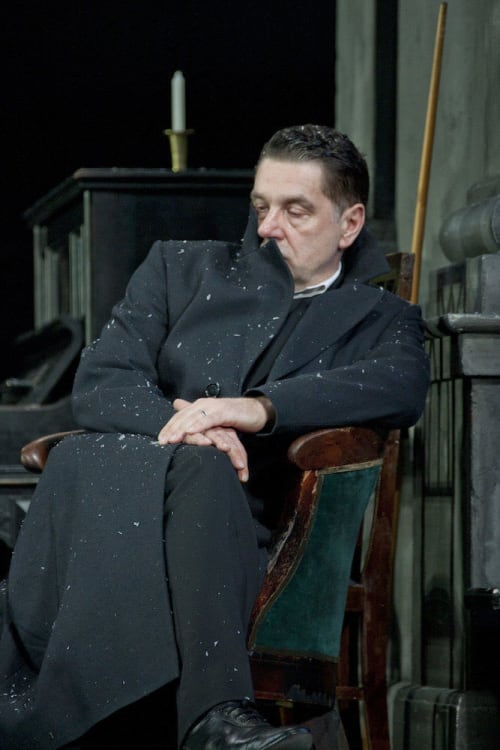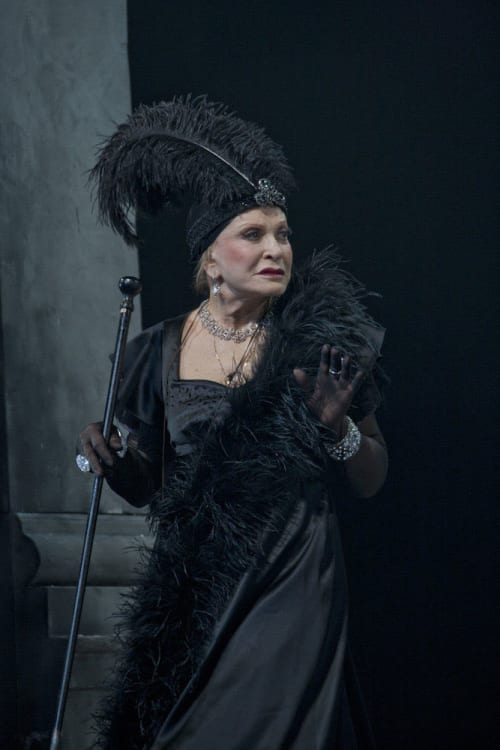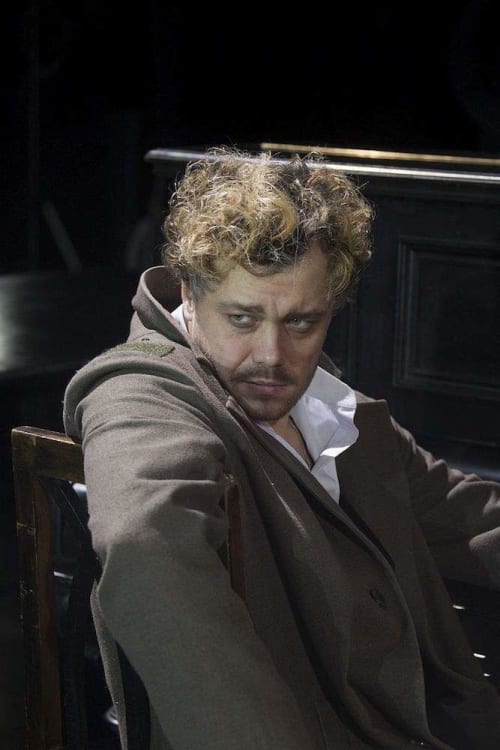 A masterclass in staging, acting, composition, attention to detail, Rimas Tuminas's physical theatre Eugene Onegin production is a must. Three slow-paced hours of unalloyed pleasure played against a reflecting backdrop (mirror mirror on the wall)… a skillful editing of Pushkin's text with visual and aural aids… the fragmented script (narrative dancing from hand to hand) is transfixing, compelling. One hears Pushkin afresh: the verse's music is brought out, as Tuminas looks deep into the heart of Pushkin's soul.
A five-star treat from 2013, a worthy Golden Mask winner in 2014, playing to sold-out performances in Moscow for over a year, seen worldwide, at the Barbican in 2015, and now here's a chance to revisit it in one's own home. I can't get enough of it. The excellent subtitles translation is by Katherine Soloviev, based on the late Stanley Mitchell's (who, I might add, if I remember rightly from one of his talks, spent some fifteen years on it.)
My notes are impossible to marshal there are so many impressions. Girls on swings, in ballet class, snowstorms, white valenki boots, a stuffed bear, jars of home preserve (Tatyana incongruously eats from one such at the ball—with a wooden spoon—and shares it with her husband, the older man, the Prince (Yuriy Shlykov) she marries). And then there's Smoktunovsky's melancholy voice in Tatyana's Dream—the famous Russian Hamlet. I recognize it from the box set of tapes I have of him reading Eugene Onegin.
Someone said, Dostoevsky I think, that they, Russia's writers, had all come out from under Gogol's Overcoat… I think they have all come out from under Pushkin / Onegin's frockcoat. There are Gogolian touches and Chekhovian mood—I'm thinking of Trigorin's idea for a short story in The Seagull… for nothing better to do a man destroys a young girl… Tatyana's letter to Onegin torn up and reassembled under glass hangs framed on the wall above older Onegin's seat throughout.
Eugene Onegin has been done as play, opera and ballet, but here is a theatrical fusion of them all. Though spoken, the verse is a recitative of several voices, underpinned by Faustas Latenas's plangent score (very like his score for Vakhtangov's Uncle Vanya, with the same lead actor, Sergey Makovetskiy).
And there are a few extra characters not in Pushkin's epic novel in verse: a drunken Retired Hussar (Artur Ivanov) used as a chorus and occasional narrator (is he a permanent family guest?), 'Tatyana's Dream' (Irina Kupchenko), a 'Bunny' (Maria Rival), a 'Wanderer with domra' (Ekaterina Kramzina), and a dance mistress doubling as Tatyana's nanny (the wonderfully eccentric Lyudmila Maksakova). Why the dance mistress expires during Tatyana's rejection of Onegin scene is a curious symbol. Death of old imperial Russia? Or of illusion?
A rich tapestry of symbolic clues, meaningful glances, raised eyebrows and movement: a chorus of dancing girls, country folk, the slow journey from the back of beyond to the social elite of Moscow, where girls (dangling like bonbons on swings) are sent to the marriage market. The journey takes seven days by carriage, because the roads are so bad (do I hear sniggers from the audience?). All of nineteenth century Russia is put under the magnifying glass in Pushkin's Byronic, ironic witty satire. And Tuminas unpicks it with unhurried panache.
The small touches—the inclusion of 'Bunny' has a backstory I read in my programme from 2015: in 1825, Pushkin met a hare on his journey to St Petersburg, an ill omen which made him turn back and avoid the fate of the Decembrists—and the larger concept of having two Onegins (in stereo at times—"for bliss I have not been created") and two Lenskys, old and young, stimulate and captivate. The rehearsal process must have been fascinating.
Older, jaded Onegin (Makovetskiy) speaks more than his broody younger version (a smouldering, dead-eyed, haughty Victor Dobronravov, a Mephistophelian demon in black—black amongst the countryside's sepia colours). In Tatyana's Dream, amongst monstrous creatures, he reigns supreme. She dreams of being chased by a bear through the snow after the divining one's lover in a mirror scene with Olga; she gets a toy teddy for her name day; and dances with a big one as the curtain comes down. Russia the bear personified in callous Onegin?
The play opens with Makovetskiy sitting at the side with his domra (a cross between a mandolin and a balalaika) player (is this creature his Fool, does he listen to her, no he does not…). Sad, pensive, tired of life, his first lines are, "He who lived and thought can never / Help in his soul despising men. For him there are no more enchantments. He who felt will be forever / Haunted by days he can't regain." (Chapter one, Stanza XLVI).
What we see are Onegin's recollections as if in a dream, and his commentary on his own past behaviour and the lives he ruined (knifing Lensky, breaking an innocent impressionable girl's heart), his own included, and on Russia. Why Lensky (Vasiliy Simonov) has an imaginary older double (Oleg Makarov) I'm not sure, as his death (murder more like than a duel, and Onegin should have known better than to cut down this idealistic, poetic youth full of the joys of learning and life) comes in his prime. Imaginary conversations... what might have been...
Olga is beautiful (Natalia Vinokurova), full of life, with an accordion permanently hung about her neck, a present from Lensky, a possessive marker or what? She doesn't mourn him long; the accordion goes as soon as she is hitched to a young officer. Evgeniya Kregzhde's Tatyana, an unsupervised homely girl buried in the country reading Richardson and Rousseau, is wide-eyed, soulful, solemn, impetuous, noble, and the production ends with her dancing with that stuffed bear—whither Russia, as Gogol asked in Dead Souls…
Her restless night of the soul, writing that love letter to Onegin ("who taught her this affecting tosh?" he asks), punching her pillow, flinging herself around her bed like the teenager she is, dragging the bed round the room, and fainting after declaiming it, is a tour de force. What a chance Onegin missed. "Happiness was so near".
Older and wiser Tatyana weeps as she turns down Onegin's love. Amongst high society she is homesick for what she had before in the remote estate amongst the tedium of simple country life with its loganberry juice and sincere ways, but she will be faithful to her vows. All this the aristocratic Onegin scorned. Such unnecessary heartbreak… underscored by emotive music. The production speaks to the eye, the ear, the soul, and allows space for thought.
There's a lovely line that the straight-faced dipso comic dance mistress gives her pupils, "you must love the audience". Tuminas and his actors obviously do. Pushkin's lines are delivered with affecting care and pointed wit.
Reviewer: Vera Liber