Eurobeat... Almost Eurovision
Written by Craig Christie & Andrew Patterson
Theatre Royal, Newcastle, and Touring
(2008)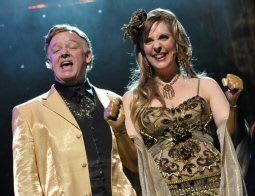 Who better to review a show about the Eurovision Song Contest than someone who's been there, done that and got the memories? So when it came to Newcastle, we asked David Ducasse, member of Scooch, the group which was the British entrant in 2007, to go along for us.
I admit I have a keen interest in Eurovision, having been chosen to represent the UK in last year's competition as part of the pop group Scooch, so was curious to see this production.
I knew I was in for a treat when I was greeted in the foyer by a lady with a cowboy hat full of badges baring the flags of each of the ten competing countries in the 2008 Eurobeat - almost Eurovision Song Contest. Delving into the hat (with my eyes closed I must add) I discovered I was to pledge my alliance to...the United Kingdom! Oh dear.
Eurobeat is a fast-paced interactive campfest featuring all the things you love about the annual competition. Do clothes get ripped off? Is there the famous key change in the song? Are there costume changes galore? Do things go wrong? Yes, and more besides!
The performance began with a welcoming endorsement by Mr Eurovision himself, Terry Wogan, projected onto a large screen. The audience is transported to Sarajevo who has, with some dramatic licence, won the rights as hosting country.
The night is compared by hosts Boyka, a glamorously hormonal femme fatale (deliciously played by Mel Giedroyc) and Sergei, an aged children's TV presenter, whose English pronunciation is as dodgy as his toupee (played wonderfully by Les Dennis).
The format of the show follows that of the real contest, although somewhat streamlined, with just ten countries competing, and with just three minutes to make an impact and win votes, each act certainly delivers.
We are treat to an aria fused with rock and roll (and some rapping thrown in for good measure) from Italy, three gym-trained hunks carrying briefcases in their limp wrists from Estonia, a tuneless parody of Icelandic singer Bjork, a poptastic male and female duo complete with bubble machine from the UK, a four-piece athletic lycra-clad boy band from Russia, a subtitled female trio in national costume from Hungary, a male soloist with fog machine and mic stand trouble from Ireland, a Nana Mouskouri look-a-like from Greece, a non-singing post modernist trio from Germany and AVLA from Sweden, who of course paid homage to the legendary ABBA.
Mention must go to the fantastic Ensemble which plays multiple roles. Their performances and execution of the movement and staging was superb, matched by an array of impressive vocals.
When the time arrived for the votes to be cast the audience needed little encouragement - they were right behind the entrants from the off with their clackers, claxons and flags, and were all set to text their votes, leading to the interval.
Act Two opened with a hilarious production number titled 'I'm Sarajevo (Taste Me!)' fronted by Geidroyc dressed as a giant turnip, which brought us swiftly to the results - again, hilariously delivered by the ensemble playing the various nations presenters via a giant screen.
My vote was with the Russians (remember you can't vote for your own country) though I had high hopes that this competition might actually see the UK faring well. Alas we were relegated to third place (better than last!) and the winners? Estonia!
If you're a Eurovision fan, or simply enjoy a great party night out - Eurobeat ticks all the boxes! I wonder if I could enter next year?
At Newcastle until 12th July, then touring to Milton Keynes, Nottingham, Brighton, Southend, Southampton, Aberdeen and London (West End)
Howard Loxton reviewed this production on its West End transfer at the Novello
Reviewer: David Ducasse