Europe
David Greig
Donmar Warehouse
–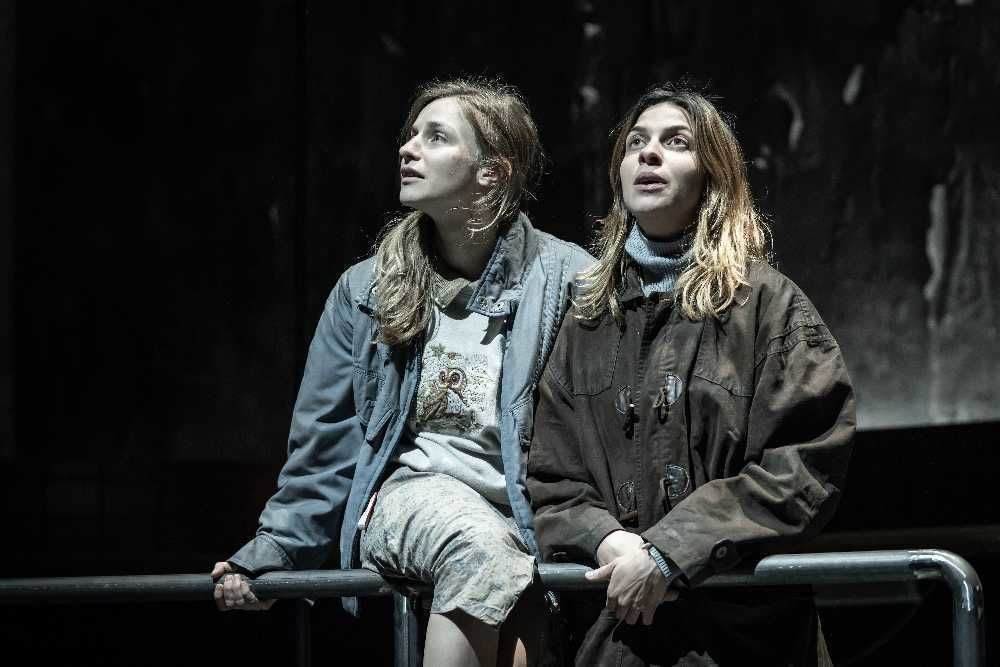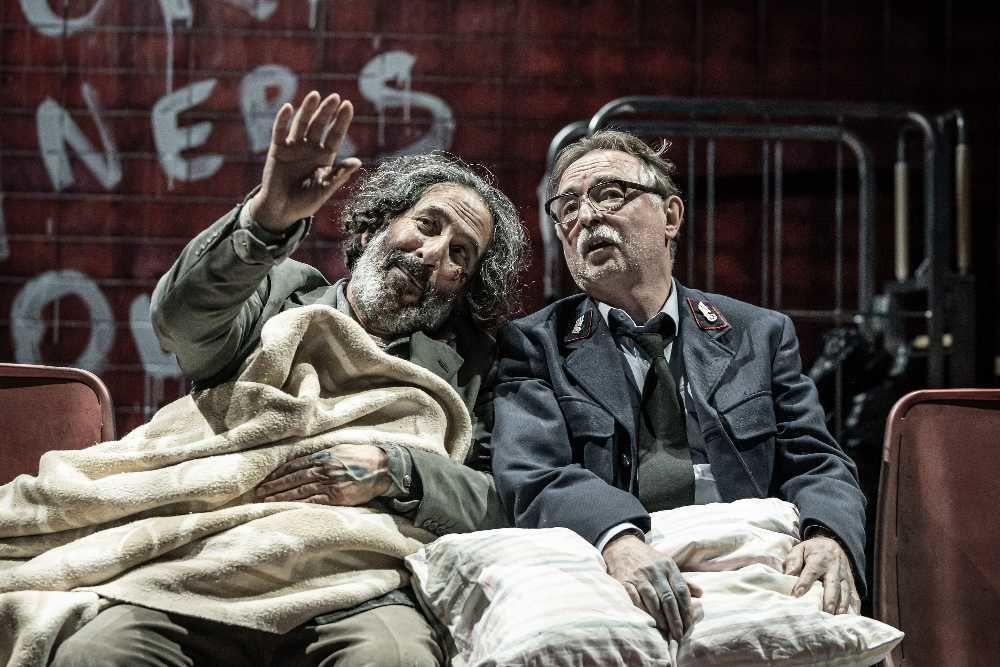 Michael Longhurst has chosen David Greig's bleak satire on the state of the continent as a timely way to open his period as Artistic Director at the Donmar. At the same time, this is also an opportunity to celebrate the silver jubilee of the play's first outing.
Europe is set in a country on the edge of what was the Iron Curtain at around the time of the play's creation in 1994. The most terrifying fact about this revival is that the parable could easily have been written today and set in any one of at least half a dozen flashpoints around the world.
With Brechtian signs introducing scenes, following an opening chorus, the basic themes are set out early at a railway station, perhaps in Czechoslovakia, conceived by designer Chloe Lamford on two levels.
Although it is right at the centre of Europe, the station feels like the end of the world, primarily because although trains flow through heading for exciting destinations such as Berlin, the impenetrable timetables have now symbolically deemed that none of them will ever again stop there.
Here, a retirement age father and his daughter in her 30s, respectively played by Kevork Malikyan and Natalia Tena, wait. They are rootless migrants, who have been forced to leave their own country and are now finding themselves pushed from pillar to post, labelled as "economic migrants".
The latest person who wants to do some pushing is Ron Cook's comically officious stationmaster Fret. Making liberal use of his echoing announcement system, he tries every trick in the book to persuade the weary travellers to go away.
They get much more sympathy from Fret's sidekick Adele portrayed with both humour and sensitivity by Faye Marsay. In the ways of small towns, she has married one of the few vaguely eligible men of her own age, Billy Howell taking the role of Berlin.
His own life is far from a bed of roses. Berlin has just lost his job and gets his kicks (literally) from hanging around with a couple of other bigoted thugs, while the only young man in town with any sense of the wider world, Morocco played by Shane Zaza, is little more than a well-dressed spiv.
For 2¼ hours, with occasional songs that barely lighten the grim atmosphere, viewers have the opportunity to witness a group of unhappy people dividing into various cliques, with violence and populist hatred always bubbling under the surface, much as it seems to do across so much of Europe today.
The most intriguing exchanges come when there is something of a thaw, leading to genuine friendships developing between the two women and also, in rather less predictable fashion, the father figures.
Michael Longhurst benefits from a strong company. In particular, Kevork Malikyan and Natalia Tena work well together, while Ron Cook is never less than amusing and Faye Marsay adds great depth to an unexpectedly complex character.
They do a fine job of getting to grips with a play that is very much of this time as well as its own and will resonate with any viewer who has concerns about the state of our turbulent world today.
Reviewer: Philip Fisher