Europe
David Greig
Co-produced by Dundee Rep and barbicanbite07 in association with Transport
Barbican Pit
(2007)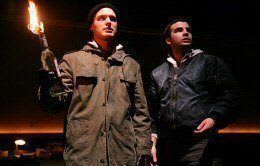 Scottish playwright David Greig is still not yet 40 and yet he has built up an eclectic body of work that can compare with any of his rivals today.
Douglas Rintoul's revival (originally seen at Dundee Rep) of his multi-layered play about society today has Brechtian overtones with its simple staging and anti-heroic themes. The writing is funny, wise and sometimes brutal, but then so is the world today.
Despite occasional ironic bursts of its Beethovian theme, one must assume that the play's reappearance at a time when the European Union is celebrating its fiftieth birthday is entirely coincidental since Greig's Europe of the mind is something much greater than a mere location.
Europe is symbolically set in a place that is both the centre of things and the middle of nowhere. It is the kind of middle-European town that for generations has always been on the border between countries but changes sides with every war.
The play features and eventually brings together three groups of people who together build up a picture that acts as a metaphor for the continent of the title but also the wider world.
Sava and Katia (Hannes Flaschberger and Michelle Bonnard) are refugees from some unnamed war zone who work hard to be invisible, for fear of attack as aliens. They land up in a station waiting room where they wait for a train that will never come, since this town has fallen off the rail map.
At first, the comic stationmaster, appropriately named Fret (Robert Paterson), tries to shoo them off, with no help from his assistant Adele (Samantha Young), who dreams of travelling anywhere to escape the dead-end town where she is currently trapped in a loveless marriage.
Her husband Berlin and his pals meet in the town's only bar and, for want of anything to do but talk about a better life elsewhere, plan NF style anti-immigrant protests, daubing racist messages and fomenting strife.
These disparate groupings gradually interact and, while some build alliances, others move in the opposite direction. Thus, this town is a microcosm of what is going on around the world today with ethnic groups being driven from one place to another, despised as economic migrants and simultaneously settling into poor communities and becoming their scapegoats.
The final moments confirm that Europe is a powerful and disturbing play about love and hate. Like so many of Greig's plays, it works on numerous levels. In particular, this taut two-hour drama addresses the associated issues of outsiders and aggression against them that so often lead the front pages of the papers today.
The run is short but if you can find the time, Europe is one of the most intelligent and thought-provoking plays that is currently playing.
Reviewer: Philip Fisher