The Event
John Clancy
Barrow Street Theatre, New York
(2009)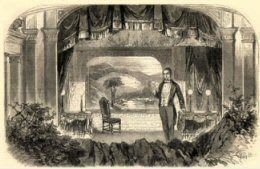 This engrossing monologue takes metatheatricality to new levels. For 63 minutes, as measured by Matt Oberg playing a young, smartly dressed man named Matt, we are asked to consider the nature of the experience that we are experiencing.
With great wit and perfect timing, he talks us through the relationship that we have agreed to engage in by purchasing a ticket to see The Event.
Our performer goes into immense detail about what he is setting out to do, what his writer and director, both John Clancy, have in mind and are trying to achieve and even reveals some of the tricks of the trade.
This proves to be far more than mere theorising, as again and again through the medium of his actor, John Clancy gets right into his off-stage participants' heads and second guesses our thoughts as the monologue develops.
The team also play jokes on the audience so that on a couple of occasions, nobody is quite sure whether the pauses and stumbles are as scripted as the twenty seconds when the man drops out of character. He does that to address us as the actor, even suggesting that if the evening isn't turning out to be as rewarding an experience as we had expected, this would be a good moment to leave.
There is far more reflection about what being an actor is all about and how they interact with the people on the other side of the fourth wall. By extension, the ideas could equally apply to any other night in a theatre and could be transposed to sports, dinner parties or any other Event, with little change.
However, The Event does not stop the philosophising there. It gradually extends the brief to consider how we live today and in particular the way that technological advance and societal demands make us different people from those of earlier generations.
With Matt Oberg on top form and a script that provokes thought throughout and long after the final curtain but is also generously endowed with laughs, The Event is a real delight. We shall have to hope that it makes it to Edinburgh in 2009, so that local audiences might have a chance to see what would undoubtedly be one of their Fringe highlights.
Reviewer: Philip Fisher