Everyman
New adaptation by Carol Ann Duffy
National Theatre (Olivier)
From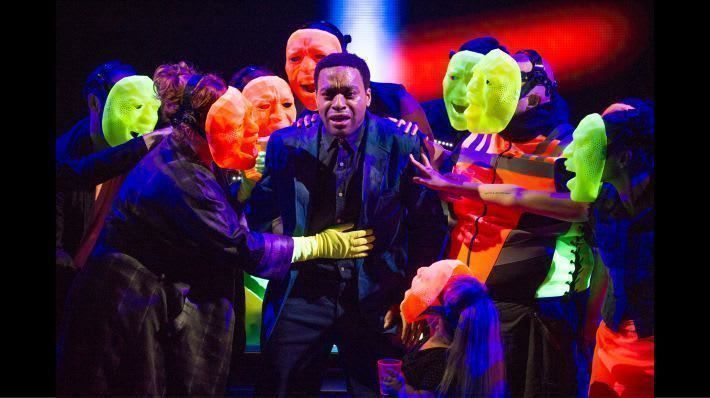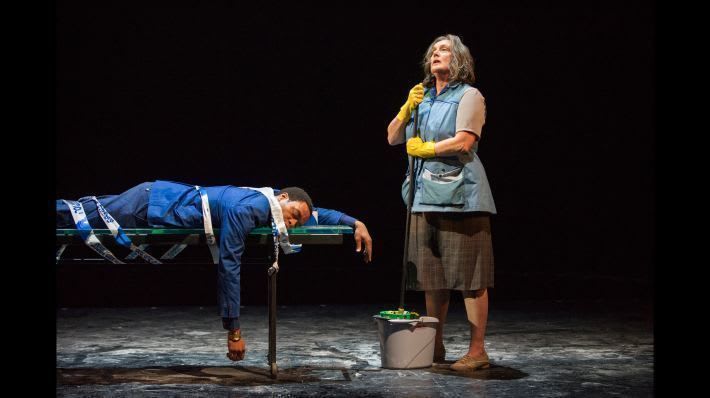 In time, if Rufus Norris's first producton as Artistic Director at the National Theatre is remembered, it will be for the performance of Chiwetel Ejiofor as the eponymous Everyman.
For those that do not know the 500-year-old mythic tale, it follows an archetypal man after Death comes visiting with the devastating news that Ev's days are severely numbered.
In this vision, based on the slangy vernacular verse of Poet Laureate Carol Ann Duffy, the world that our protagonist has been enjoying to the full is very much that of today.
Following a series of spectacular graphics on an over-sized screen, the opening could not be happier, as a group of friends helps the affluent, proud central figure to enjoy a 40th birthday party with raucous friends, booze and coke in abundant supply.
The morning after such a party was always likely to be hung over but nobody expects to meet Kate Duchene playing a char who also happens to be God and is insistent on introducing the birthday boy to her acolyte, Death.
In the latter role, Dermot Crowley looks as if he has stepped out of a Conor McPherson play to find himself re-cast as the character that Everyman has clearly never considered meeting but instantly dreads more than any other.
From this early point in the 100 minutes, reflection is the order of the day. It takes a little time for Ev to come to terms with his impending fate but, soon enough, in time honoured fashion, the high and low points of his life flash by.
There are vignettes with his family (Sharon D Clarke in particular providing some much-needed light relief), younger self and strangely a quartet representing his gold-leaved wealth.
There are also visitations, most memorably from a team of walking rubbish bags and a powerful wind machine that playfully stretches the action into the auditorium.
In this version, what should be a simple morality play can get a little lost in complex highways and byways that might work better on the page than on stage.
The production qualities though are very high in a performance that both looks and sounds tremendous. This results from the combination of movement choreographed by Javier De Frutos, video from Tal Rosner and incredibly varied music composed by William Lyons supplemented by some popular favourites.
They back up a moving and totally convincing performance by Chiwetel Ejiofor, who really exposes his character's vulnerability in making a welcome return to the stage.
The National Theatre has done its best to make this production accessible. Not only is it in the Travelex £15 Season but there will be an NT Live broadcast on 16 July.
Reviewer: Philip Fisher