Everything is Absolutely Fine
Book by Alice Keedwell with music by Harry Blake and lyrics by both
House of Blakewell / Hannah Elsy Productions
The Lowry, Salford
–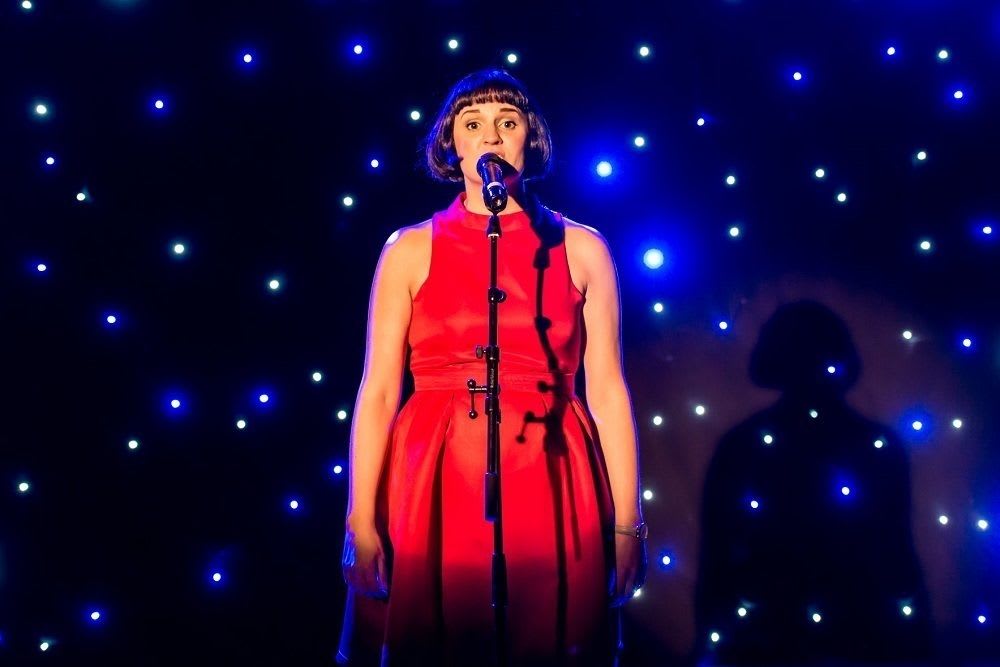 The last production from House of Blakewell staged at The Lowry is a full-cast fast-paced musical romp through the Norse legends. If nothing else, Everything is Absolutely Fine, with a stripped-back setting and a decidedly melancholic atmosphere, demonstrates the range of the company.
Alice (Alice Keedwell who wrote the book and co-authored the lyrics) hopes relocating to a rural community will help her cope with crippling social anxiety. However, her ever-present inner voice (Harry Blake who wrote the music and collaborated on the lyrics) constantly draws attention to her shortcomings, making Alice swing from over-exuberance to indecisiveness. To make bad matters worse, austerity-based targets undermine Alice's professional expertise as an occupational therapist. It is no wonder Alice regrets not moving to a cooler neighbourhood—like Margate.
The influences that have shaped Everything is Absolutely Fine are apparent. Dressed in a dinner jacket and with deadpan vocals, Harry Blake could be a member of The Pet Shop Boys. The sharp, witty insights with piano backing bring to mind the late Victoria Wood. Yet the emotional depth of the show ensures it does not end up a mere homage.
Traditionally, musicals reflect the glitter and spectacle of showbiz but director Valentina Ceschi firmly anchors Everything is Absolutely Fine in bleak reality. The restrained keyboard backing and the mundane nature of the challenges faced by Alice (for whom buying a cup of coffee is an ordeal) all add to the sense of watching true-life events unfold. There is a resigned atmosphere; an appreciation that a magic panacea is not going to solve Alice's problems. A problem shared, concludes Alice, is still a problem.
This is not to suggest the show is dour. The witty lyrics and the surprising delivery ensure it is lively and funny despite the subject matter. A song with a gentle lilting keyboard backing begins and ends with unexpected four-letter expletives.
Alice Keedwell creates a complex character. At work, Alice is confident of her abilities and able to make well-reasoned arguments. In her private life, she is an indecisive mess incapable of choosing her evening meal and constantly worried about the judgement of other people. Yet Alice's sheer determination to maintain a positive outlook ensures the audience is on her side from the start. Keedwell's perceptive performance helps clarify how apparently everyday events can be a challenge for someone with anxiety.
A warm atmosphere develops in the heat ensuring the audience is quite willing to join in a concluding chorus or help by playing supporting characters.
Harry Blake plays Alice's inner voice as a negative version of Jiminy Cricket, undermining Alice whenever she tries to move forward in her life. This approach could become smug and unbearable but Blake's excellent timing and world-weary, seen-it-all-before delivery is hilarious. There is a sharp physical contrast between the two actors: Keedwell is a ball of energy constantly on the go while Blake stands dead still, too bored to move.
House of Blakewell is now a 'developed with' artist at The Lowry, raising the cheering possibility that the company will be returning to the venue in the future.
Reviewer: David Cunningham