Evita
Lyrics by Tim Rice Music by Andrew Lloyd Webber
Bill Kenwright
Phoenix Theatre
–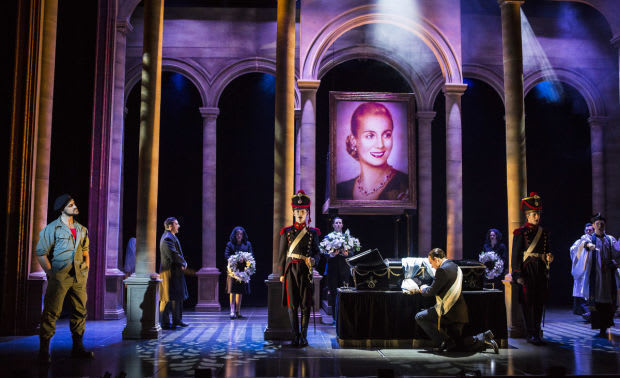 On its original concept album, Evita was described as an opera and it is almost entirely sung. It is not a conventional "book" musical; the story of the rise of Eva Duarte to be Argentina's First Lady is told through its songs which also provide a caustic commentary to the audience (and often to Eva) from a Chorus figure called Ché: he could be Ché Guevara who was Argentinian.
What songs! From Evita's "Don't Cry for Me Argentina", with a theme that Lloyd Webber skilfully uses throughout, and "High Flying Adored" for Ché and Evita to "Another Suitcase" for Péron's discarded mistress, a phrase from which ("What happens now?") gets movingly quoted when Evita is failing. These are some of Lloyd Webber's best songs and Rice's lyrics are pointed and poignant.
This revival, which has been touring for some years and already played in the West End in 2014, is now led by Emma Hatton as Evita and Gian Marco Schiaretti as Ché. Joint directors Bob Tomson and Bill Kenwright make it very fast-moving and MD David Steadman maintains a matching tempo. While that may generate excitement, it places great demands on the singers to get Rice's lyrics over clearly and they are not always successful. Anyone coming to the songs for the first time might not always be able to follow the plot, even though carried along by the music.
Emma Hatton's Eva is a fast learner who knows how to use her attraction. There is a coarseness to her character that she never quite loses. This isn't a charismatic Eva in the first half; it is only after the interval that she blossoms under the spotlights and at the same time the performance begins to display more depth.
Kevin Stephen-Jones is a consistent and enigmatic Perón. Does he care for the lives of the workers? Are his social policies simply a ploy to gain power? Ché briefly enumerates his dictatorial actions: how Fascist is he? As his opponents disappear, he may keep a blank face, but this Eva knows and this shows in her characterisation.
Although Gian Marco Schiaretti's Ché is often playing straight out to the audience, there is little empathy between them, no real sense of contact. Though sung well, you don't feel the political reasoning going on inside him and it is not until his second act duet with Eva that he sings with real passion and begins to suggest the charisma of the real Guevara.
Oscar Balmaseda is in powerful voice as Magdali, the tango singer with whom Eva first hitches up, and Sarah O'Connor pays Perón's mistress; singing "Another Suitcase in Another Hall" sweetly she got a round, but slower it would be more moving.
Matthew Wright's settings, with stairways and walkways sliding in on trucks and arches being flown in, allow for changes that never hold up the action and rapidly clear the space for the full company to rush on for one of Bill Dreamer's energetic dance sequences, though the continual up/down of pillars begins to become a running gag, at least from the front of the stalls. They have to get out of the way to get the trucks in but sadly are still very noticeable in Tim Oliver's otherwise atmospheric lighting.
The stage frequently fills with the military, priests, peasants and townsfolk and children with a hard-working company in multiple roles and a smallish band making a big sound. The vitality and energy of the whole company match Lloyd Webbers music and together they drive the show. It won't erase memories of the original but is well worth seeing.
Thirty years ago Rice and Lloyd Webber created this picture of 70-year-old political chicanery and spin. Things haven't changed, they are still with us.
Reviewer: Howard Loxton