Evita
Lyrics by Tim Rice, music by Andrew Lloyd Webber
Bill Kenwright by special arrangement with the Really Useful Group
Opera House, Manchester, and touring
(2011)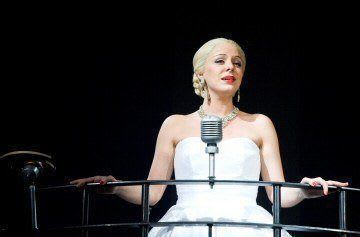 T-shirts emblazoned with the slogan "Just a little touch of star quality" were for sale in the foyer of Manchester's Palace Theatre last night. The line, a catchy lyric from Evita, should sum up Tim Rice and Andrew Lloyd Webber's homage to Eva Peron. But in this production of a musical that has spawned numerous tours, cast albums and a movie, the star quality was largely absent.
Although there is nothing glaringly wrong with Bill Kenwright's revival of the long-running show, the sum of the parts is hugely underwhelming. While Reuben Kaye's weaselly Magaldi ticked every box and the sumptuous costumes evoked both peasant and political worlds with aplomb, the end result lacked energy and verve. Everything and everyone seemed tired and lacklustre. Even the anthemic Don't Cry for Me Argentina failed to pluck at the heartstrings.
A fondness by the set designer for Greek pillars made some scenes visually awkward and a montage depicting Eva's European tour jarred after a first half which swam along quite happily. Matters weren't helped by Mark Powell's low-key and often inaudible portrayal of Che, a difficult narrator at the best of times.
As for Earl Carpenter as Argentinian president Juan Peron, well, he's OK. His character is by no means the meatiest of those on offer but he does what he can. Meanwhile, Abigail Jaye in the title role is perfectly adequate. Her voice is sweet and clear and her best moment comes on Eva's death bed when singing the haunting You Must Love Me. But adequate isn't enough for a role like Evita. Power, presence and fire in the belly are required to convince the audience that an illegitimate girl from the provinces rose to become the First Lady of Argentina and, after her death, the "Spiritual Leader of the Nation".
Despite all this, the sheer likeability of the slew of songs in Evita radiates throughout the production. More than 30 years after its premiere in London's West End, the Rice/Lloyd Webber collaborative effort feels as fresh as ever. From Oh What a Circus and On This Night of a Thousand Stars to Another Suitcase in Another Hall and Don't Cry for Me Argentina, these compositions retain their touch of star quality.
"Evita" runs until 28th May, 2011 at the Opera House
Reviewer: Helen Nugent