Evita
Lyrics by Tim Rice; music by Andrew Lloyd Webber
Theatre Royal, Newcastle, and touring
(2009)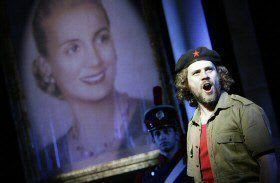 In 1978 (or 1976 if we consider the concept album) the idea of a musical based on the life of Eva Perón seemed decidedly odd. The symbol of a régime which many (including the US government) considered fascist as the heroine of a piece of music theatre? No chance, surely?
Andrew Lloyd Webber thought so at first. When Tim Rice suggested it, he was firm in his rejection and went off to write Jeeves with Alan Ayckbourn. That, however, flopped and eventually Rice got his way and Evita was born. The concept album was produced and then the show hit the West End with Elaine Paige as Eva, David Essex as Che and Joss Ackland as Perón - and was a hit. I remember being offered £30 (in 1978!) for a matinee ticket by one of the touts who were outside the theatre in force.
It was successfully revived in 2006 with Elena Roger as Evita and began touring last year with Louise Dearman, although Rachael Wooding has since replaced her.
Does it stand up to the passage of time? I think it does. Wisely Rice concentrated on the story of the woman rather than the politics and gives us the political background through the medium of narrator Che, whose passionate involvement in the politics (and his obvious attraction to Eva the woman) makes his background-giving more than mere exegesis. In fact, his passion drives the story forward.
Directors Bob Thomson and Bill Kenwright chose wisely when they cast Seamus Cullen to play Che. At frst sight, using somone whose claim to fame is coming in the final ten of Any Dream Will Do seems like a shameless grab for the publicity associated with that TV show but the man can sing and act and his Che is an impressive figure. It has to be said that, initially, he was badly let down by the sound system in the opening. "Oh what a circus" is such a powerful piece, breaking through the extravagant mourning of Evita's death, and here it was so weak that my heart sank but, as it turned out, it was not Cullen's fault: either his mic wasn't working properly or the sound operators simply got thre balance wrong. When the problem was solved, his performance was all it should be, powerful and convincing.
Rachael Wooding's Eva is - I think rightly - not a particularly sympathetic character. There is a stridency in her singing as she drives to reach the top, suggesting the power of her ambition, which vanishes when she is being persuasive - "Don't cry for me Argentina", for example - and in her final illness.
The showstopper song, of course, is "Another suitcase", Barbara Dickson's big hit from the concept album, and here it is sung by professional debutante Carly Bawden to great effect. She captured the pathos - and the hearts of the audience.
A well-drilled and talented 14-strong ensemble perform Bill Deamer's Latin-inspired choreography with the skill and energy we have come to expect from many an British musical theatre ensemble over the years on Matthew Wright's impressive set which changes smoothly from scene to scene, complemented by Mark Howett's lighting.
Definitely a show well worth reviving!
"Evita" runs at the Theatre Royal until 2nd July
Reviewer: Peter Lathan