Extremism
Anders Lustgarten
Theatre Peckham
Theatre Peckham
–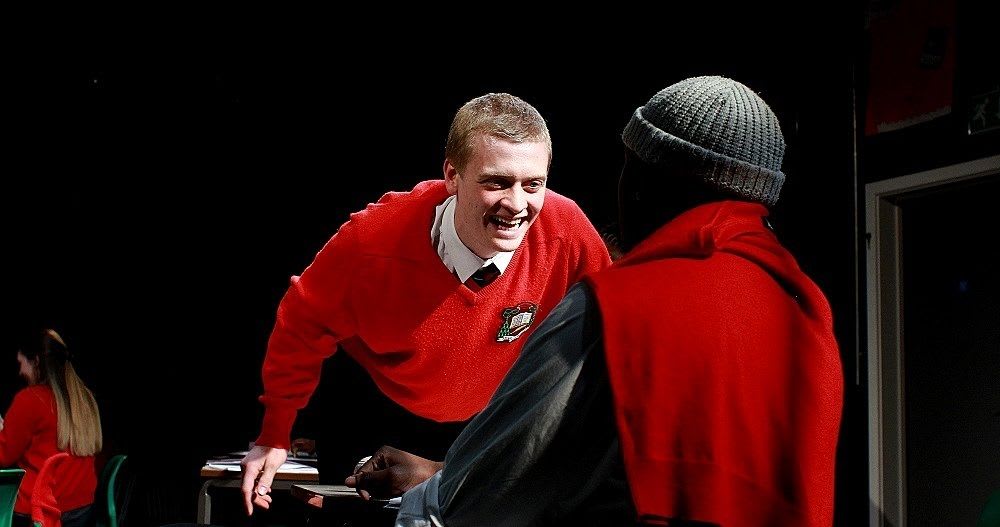 Extremism is an uncompromising political play set in a secondary school classroom.
It is about Prevent, one of the four Ps of the national counterterrorism strategy Contest, that since 2015 has imposed statutory duties on schools of all levels to be alert to and report children who may be supportive of terrorism or may be being radicalised.
In this London secondary, ten pupils are left reeling after one of their peers, Jamal, has been taken away by the police. It seems obvious why, but is it justified?
Left unsupervised, they speculate about Jamal, they flirt, joke and they antagonise each other. They are as cruel as they are funny.
From out of the banter emerges an uncomfortable undercurrent of suspicion, but posturing erupts into accusations, unveiled racism and bullying, as the emerging ringleaders pick on their less assertive classmates.
A few speak up but their voices of reason fall on deaf ears as Rachel, Kirsty and Melina whip themselves up with hollow justifications, their attacks increasingly focused on Muslim pupil Suhayla.
With Lord of the Flies-like certainty, it can only end in violence and, with the classroom door locked, Suhayla is humiliated and set upon by the others.
Political activist and playwright Anders Lustgarten wrote Extremism for the National Theatre's Connections programme of works to be performed by young people and, under the direction of Theatre Peckham's artistic director Suzann McLean, this production, staged in traverse, has a youthful, restless energy.
The set (design by Emma Wee) is arranged as a classroom with furniture borrowed from local schools and McLean has the young cast move around a lot and get up close to the first rows, where the audience sit at desks, drawing them into the action.
Lustgarten's narrative presents a variety of views and raises important issues of belonging, country, faith and defending your convictions, but with the running time of a single lesson, by necessity these are touched on only briefly.
The text reveals the pupils as poorly informed and quick to generalise, with points made bluntly and responded to in the same terms, or where they don't have an answer countered by shaming personal put-downs.
The rapid build-up of tension required by the condensed timeframe gives the action an urgency reinforced by the understated beat of Lustgarten's text and the forthrightness of the pupils' argot.
In London's Borough of Southwark, a priority area for Prevent, this provocative piece is particularly relevant but the classroom is a microcosm of society and Extremism should concern us all.
Conversation Stations are available after each performance where audiences can discuss and seek advice from specialist organisations about the issues raised in the play.
Reviewer: Sandra Giorgetti