Fabulation or The Re-education of Undine
Lynn Nottage
Tricycle Theatre, Kilburn
(2006)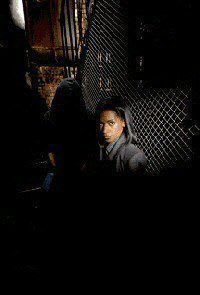 The final play in the Tricycle Theatre's African-American season is the first to be set in the third millennium. It represents the British premiere of an Obie award-winning play that has already been successful in both Los Angeles and New York.
Jenny Jules stars as Undine, a pretty, lisping PR consultant with fourteen successful years under her belt who seems to have the world at her feet. Unfortunately, minor problems in getting the right celebrity for charitable events, hardly helped by her wittily charmless assistant (Claire Lams' Stephie who rolls up to the office dressed like a garish ice-skater), are merely forerunners of a much more serious demise that eventually reaches Dantesque proportions.
First, not only does her Argentinian husband desert her but he empties the bank account, almost as he is making her pregnant.
Disasters followed thick and fast after her return to the family home in Brooklyn, where her relatives cannot allow her to forget that she started out as Sharona Watkins, a girl who not only walked out on them but condemned them to a fiery death in a magazine interview.
In helping her smack-addicted grandmother (the excellent Carmen Munroe) to score a hundred bucks of white powder, she inevitably gets caught by the police. After a night in a cell with two outrageous prostitutes, her final redemption is an indirect consequence of six months enforced rehab, during which she meets Guy, a loyal ex-con and ex-junkie played with great sincerity by Kobna Holdbrook-Smith.
In some ways, Undine's descent is reminiscent of that of David Mamet's Edmond, recently seen embodied at the National by Kenneth Branagh. Like him, she represents a flawed central character who is made to pay for her sins before reaching an ultimate honesty that permits release - and a happy ending.
However, the difference here is that director Indhu Rubasingham will not trust the script and, at every opportunity, strives for cheap laughs where in many cases a more reflective stance would better represent the playwright's intentions.
Jenny Jules is prone to the flying hands of a musical star but without the singing, and everywhere subtlety is sacrificed to obvious comedy. Even what should have been a heart-rending scene as a heavily pregnant Undine failed to secure assistance from Social Services is not taken serioiusly.
The audience absolutely lapped up the over the top sitcom style and, on one level, this is fine. However, Fabulation should also be a more serious play that considers the black experience in New York today and this element was completely lost underneath the perennial, sometimes forced, jocularity.
Louise Hill reviewed this production in its second run in September
Reviewer: Philip Fisher