Let's Face the Music and Dance
Simon Green and David Shrubsole
Salisbury Playhouse Salberg Studio
(2008)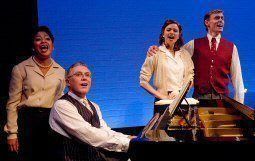 A conversation in Sheffield between PhilipWilson, then directing Ain't Misbehavin', and his musical director David Shrubsole first implanted in Wilson's mind the thought of a revue featuring the brilliant work of Irving Berlin.
This week, following Wilson's arrival in Salisbury as Playhouse Director, the show, produced by Terry Eldrige, which until now had been seen only at a workshop, is receiving enthusiastic applause in the Salberg Studio as part of Salisbury's colourful Christmas season.
Arrangements and musical supervision are, of course, in the hands of Shrubsole with direction by Simon Green and choreography by Alexandra Worrall.
Musical director and accompanist is Stuart Hutchinson, who also contributes to the vocals
The stars, however, producing for our delight vivid memories of Astair, Rogers, Crosby and the rest, are Helen Anker, singer and dancer whose CV includes On the Town (ENO), and Oklahoma! (National), Melanie La Barrie, who appeared in the West End in Mary Poppins and Daddy Cool, and much travelled actor-singer Edward Baker-Duly whose London appearances have included Brigadoon, Grease, A Chorus Line and West Side Story.
To say they open with the ever-popular "Alexander's Ragtime Band" would be foolish, since every tune Berlin wrote was ever-popular. And they remain so today, coming across as fresh as ever, even if, as in so many cases, the shows they recall have long since been (almost) forgotten, shows such as The Coconuts, Thousands Cheer, Miss Liberty, and another lost title, Louisiana Purchase. More remembered of course, are Top Hat, Call Me Madam and - who would forget this? - Annie Get Your Gun.
And at this time of year of course, there has to be room for the evergreen White Christmas!
Baker-Duly's light baritone is a nice foil for the contrasting tones of soprano Ankers and the light soubrette of La Barrie, who has the right timbre for heavier numbers associated with Ethel Merman.
And leading it all with a nonchalant swing is the excellent Stuart Hutchinson - who could get a job at The Savoy any day.
"Let's Face the Music and Dance" runs in the Salberg Studio at Salisbury Playhouse until Saturday 10th January, 2009.
Reviewer: Kevin Catchpole