Fagin's Twist
Choreographer & director Tony Adigun
Avant Garde Dance Company
The Place
–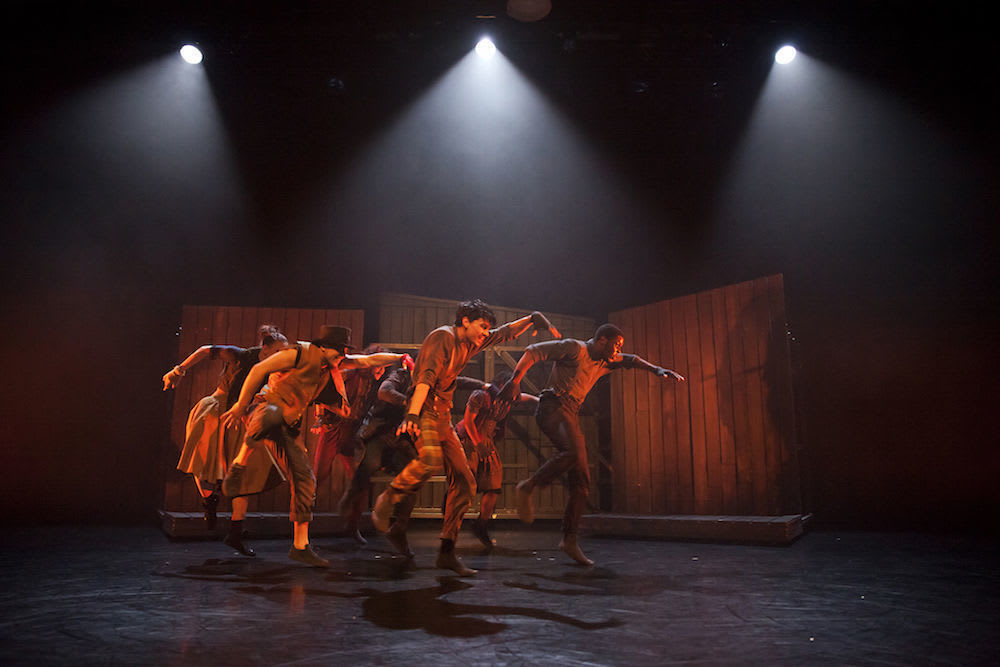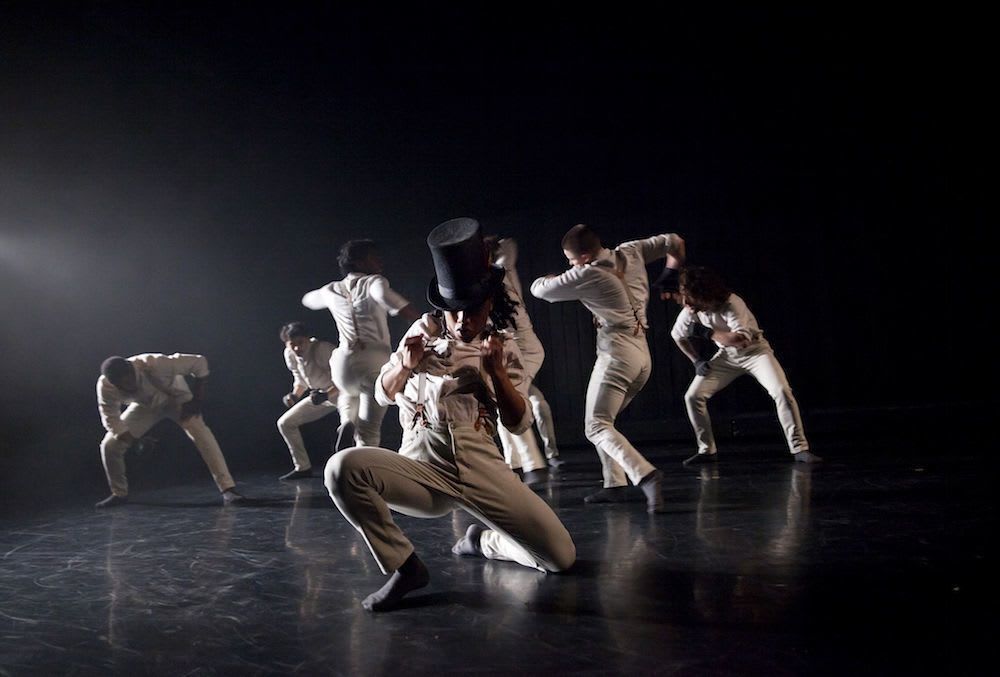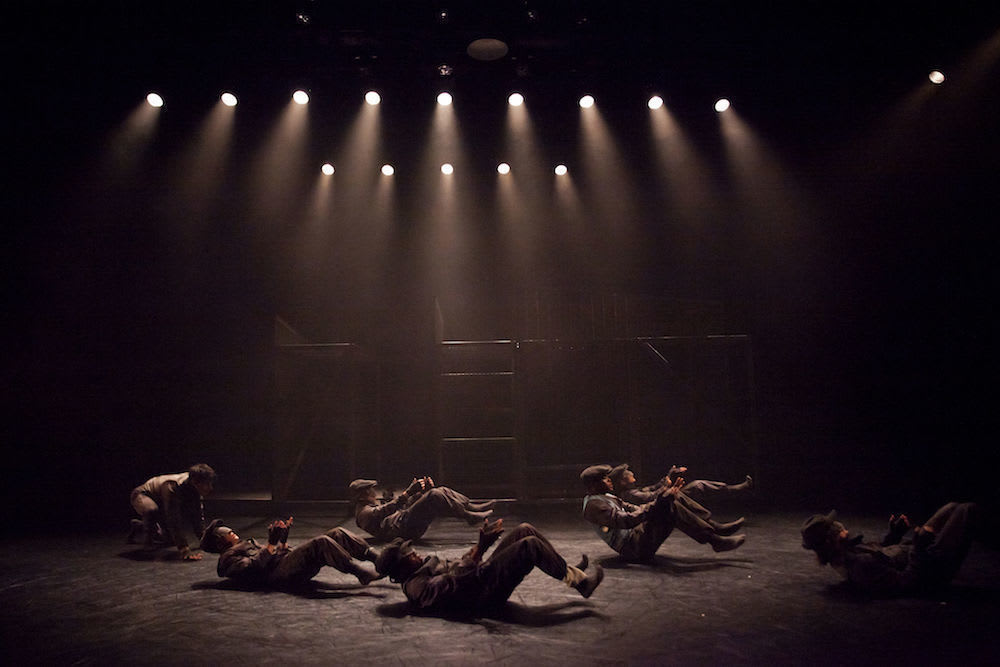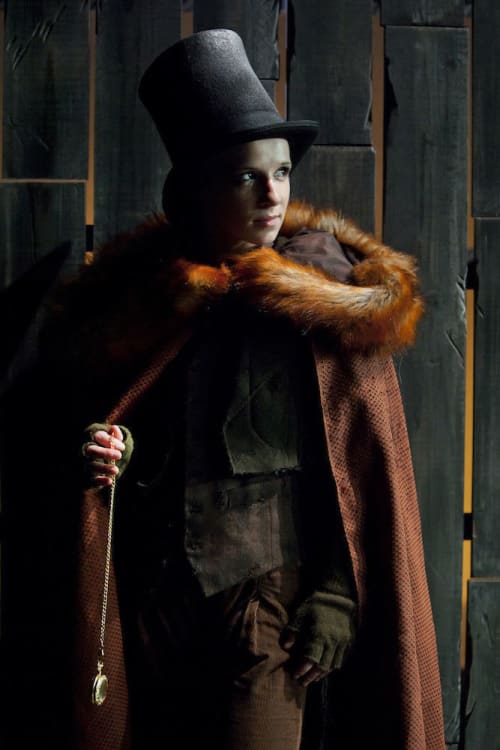 The Place is buzzing; it's Friday night; there are DJs for the twenty-five minute interval and after the show. The crowd is young, mixed, relaxed, going with the beat. There are family groups—age 8+ is recommended—and I spot ZooNation's Andry Oporia.
Tony Adigun's Fagin's Twist is very much stepping on ZooNation territory with its twist on Charles Dickens's Victorian original. Oliver is not a goody-two-shoes, quite the opposite, nor is Fagin, but at least he has a reason, as his backstory (writer Maxwell Golden; dramaturg Adam Peck), 'the truth', told by the Artful Dodger (Aaron Nuttall) shows.
Young Fagin's escape from the dreadful life-sapping workhouse with Bill Sykes (not Sikes as per Dickens), his 'needs must' thieving, the finding of his squat, the founding of his street gang, till one of them usurps his place. Poverty and its consequences—the name of the pickpocketing game is survival. It gets addictive and then greed kicks in, "everybody wants more".
Spoiler alert: Fagin and Sykes end up dead, as does Nancy (that bit at least is true to the book), and the conniving, butter won't melt in his mouth Oliver, who plants the seed of doubt and disruption, takes on Fagin's mantle. Some twist.
The king is dead; long live the king. The final triumphant image is great: Oliver in top hat, swinging Fagin's gold watch, standing atop the wooden palisade that conceals the thieves' den, lit against a darkening sky, king of the castle.
There's nothing sentimental about Adigun's version, and it matters not whether you know Dickens. In any case, Nuttall is a lively storyteller—he even does a recap after the interval—as well as a dynamic street dancer. The audience is captivated, animated, and gives a standing ovation. Who needs a critic? Not this show.
It's the dancing I've come for, as, I guess, has most of the audience, and Adigun doesn't disappoint. His ensemble choreography is very good; shoals of fish move across the stage. Who'd have thought, but I see West Side Story's Jets and Sharks in his hip hop street dance composition. And that hunched Hofesh Shechter look.
Solos, trios and duets—Sykes and Nancy, Nancy and Oliver, rival battle between Sykes and Fagin—aim at character and storyline exposition. But I enjoy just watching the nimbleness of the moves, the strength and stamina of the rippling bodies, the dodging and ducking and diving.
Dani Harris-Walters is a terrific moody, scowling, krumping Bill Sykes playing off his clever fellow workhouse escapee Fagin, lithe hyperactive Joshua James Smith. Lisa Hood is a sympathetic Nancy, cleaning and scrubbing—there's a marvellous duet with Jemima Brown's Oliver weaving in and out and around a table. Brown's characterisation, all sneaky and sly, initially takes me by surprise.
Jackie Shemesh's sepulchral Victorian penny dreadful, shadowy, sepia lighting is suitably atmospheric, giving a prison gloom to the workhouse and alleyways of London, picking out in circular spots Fagin's soliloquizing moments and his fight with Sykes in boxing ring square.
Yann Seabra's economical set design is simple but remarkably effective. A wooden wall that splits into three sections which move like dodgems, dancing with the dancers, to reconfigure space and setting, one minute bunk beds, the next a secret hideaway with many apertures. As an ID line-up wall for the five leads in idiosyncratic pose, it becomes a bas-relief frieze of abject misery.
Seabra's costumes solve the problem of numbers (eight dancers only—Sia Gbamoi, George Hodson and Muti Musafari complete the ensemble) with sinister workhouse masks, which make the workers look like automata—they move in strict precision.
Sound designers Brian Hargreaves and Seymour Milton (with some original compositions by Fraser Freeze and Hargreaves) mix an eclectic score as if for some big screen production, industrial music heavily underscoring each twist and turn in this melodramatic tale.
The beats come thick and hard—all the better to dance to. I can barely sit still in my seat. Imagine the young crowd behind me—I can sense the energy in the 288-seater auditorium.
Much thought and impressive work has gone into Fagin's Twist, that's evident, possibly too much, as the second half (forty minutes each half) has some unexpected longueurs and repetitions. It starts with immense promise, but I am ready for the end before it comes.
That is not to take away from the achievement of all involved. The dancers give it their all; those with speaking roles are doubly valiant. Close up, one can smell the commitment.
Reviewer: Vera Liber