Failure Studies
Marco Biasioli
Precarious Theatre
The King's Arms , Salford
–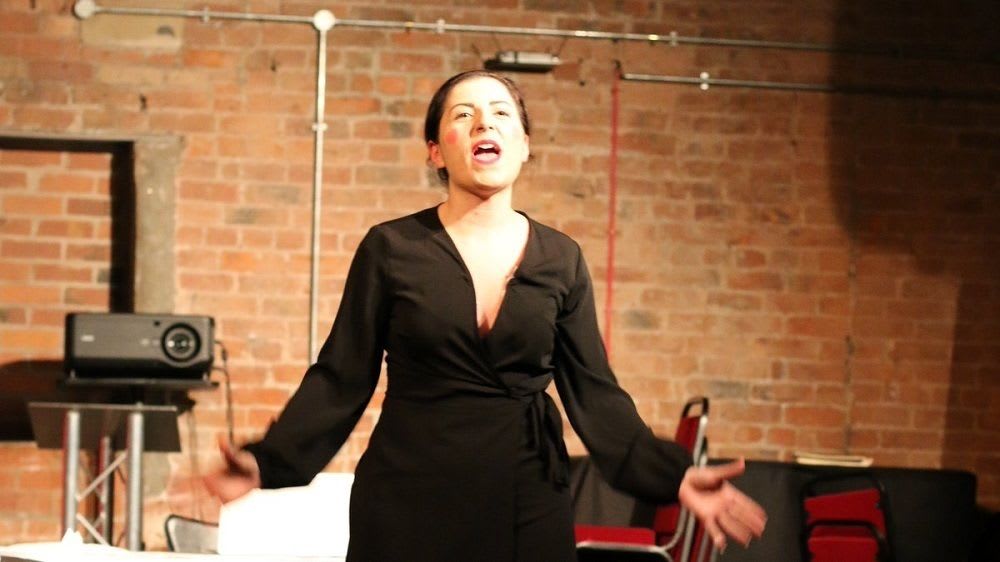 Marc (David Allen) and Babe (Francesca Maria Izzo) run Failure Studies, an academic journal dedicated to studying 'failure'. They employ an intern George (Luke Richards) whose job is to behave like a chicken. Ironically, considering the subject matter, the journal is failing and faces bankruptcy compelling Marc to devise a highly unethical means of generating funding. However, this may be immaterial as the other members of staff are part of an alien invasion force whose secret mission is nearing completion.
As the summary suggests, Marco Biasioli's Failure Studies is an absurdist comedy. As is often the case with such plays, identifying the theme is not easy. Based on the title, one might imagine 'failure' will be the main topic; but the content suggests Biasioli is satirising the absurdities, petty cruelties and extreme practices of the modern workplace.
This is a working environment where interns are literally paid in chickenfeed. An employee undertakes a rigorous exercise routine and consumes a healthy breakfast in accordance with motivational instructions to perform a job that is futile. Applicants comply with extreme requirements in job applications for positions which do not exist.
It is a bleak environment; one might expect the characters would become depressed when confronted by the pointless nature of their activities. Indeed, the cast are already onstage as the audience enters slumped on, or under, a desk like machines on standby awaiting the order to undertake the meaningless tasks they perform every day. Yet director Liam Grogan sets a comedic atmosphere, albeit one that is funny peculiar rather than funny ha-ha. On a chaotic stage, littered with discarded papers, a completely committed cast speak dialogue that rarely makes sense with absolute conviction. Luke Richards is a trooper enduring considerable demands including remaining in character as a chicken.
However, the cast need to be convincing as the script is highly episodic without a clear narrative. One accepts surrealism does not facilitate clarity but even so parts of the script feel wilfully obscure and give the impression of padding the plot. Nevertheless, author Biasioli offers a conclusion with a suggestion of justice / closure: a character who behaves exploitatively in the opening is subject to abusive behaviour at the end.
A highly confident production ensures, despite occasional vagueness in the script, Failure Studies cannot be considered a failure.
Reviewer: David Cunningham