The Faith Machine
Alexi Kaye Campbell
Royal Court Theatre Downstairs
(2011)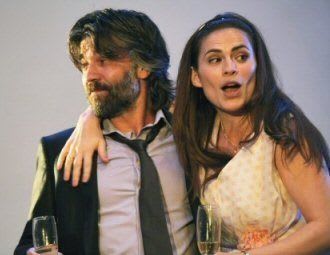 Alexi Kaye Campbell's first work to be seen Downstairs at the Royal Court is a play of ideas and it is absolutely packed with them.
The Faith Machine moves backwards and forwards between New York, the Greek idyll of Patmos and London through a decade starting in 1998. Its plot follows the fortunes of Hayley Atwell's impeccably English Sophie and her one-time partner, New Yorker Tom played by Kyle Soller.
Quite why this pair got together is something of a mystery since they seemingly have nothing in common. Shallow Tom has given up his vocation as a would-be novelist to become a high flying advertising executive.
By contrast, bishop's daughter Sophie is so PC that it hurts, eventually becoming a magazine journalist writing politically explosive pieces on depravities in war zones.
The opening scene is set in New York on 11th September 2001, as the twin towers and the partnership of these protagonists simultaneously collapse, the latter as a result of irredeemable differences in ethical values.
The drama takes a little getting into, as the couple fight their battle with Sophie having all of her best lines fed by her dead father Edward, who may be in her mind or a ghostly presence.
In this role, Ian McDiarmid is asked to declaim almost madly, before presenting a truly touching depiction of a great man reduced to imbecility by Alzheimer's Disease.
While the merits of Capitalism, Marxism and Humanism are debated at length by a series of characters, two other topics are of very nearly as much interest to the playwright.
In the scene before the first of two intervals, Edward encapsulates them both in a debate about religion and homosexuality that is still causing just as much controversy in the Anglican Church today.
The veteran has become so frustrated by what he sees as the homophobic attitude of the church, as propounded by his African friend Jude Akuwudike's Patrick, that he hangs up his cassock and becomes an angry old man raging against the dying of the light.
As Sophie and Tom meet and part at irregular intervals through the 2¾ hours, their love fails to overcome the differences that see the intellectually lightweight ad man losing every moral debate. This is inevitable as manic Tom is pitted against a woman so good that it hurts, unconsciously living up to her inherited values despite a loss of Faith.
The debates are leavened by humour that is at its best during a Gay wedding, which allows Akuwudike, now playing one of the grooms and practising his comic speech, to amuse while Tom and Sophie simultaneously love and hate each other.
Director Jamie Lloyd and his designer Mark Thompson use a bare, minimalist set enlivened by two large symbolic walls leaning away from the perpendicular on to which sinister and sometimes terrifying images are projected.
The Faith Machine has a tendency to use some of its characters to advance ideas rather than the plot but the debates that it starts and quite often views at some length are of great significance. That makes some structural weaknesses forgivable in what is undoubtedly this writer's best and most ambitious play to date.
Playing until 1 October
Reviewer: Philip Fisher