Falsettos
Music and lyrics by William Finn, book by William Finn and James Lapine
Lincoln Center Theater
Walter Kerr Theatre, New York
–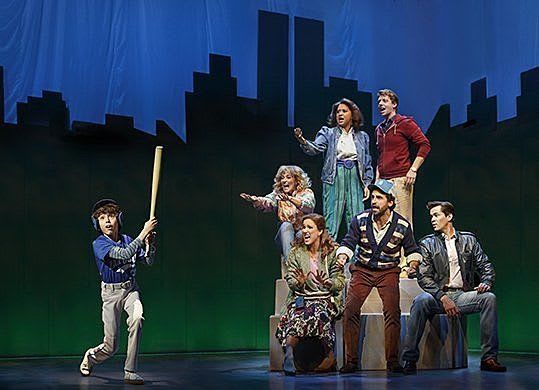 The second in the Broadway Fridays online season from Lincoln Center Theater defies expectations. To start with, Falsettos was actually recorded at the Walter Kerr Theatre on Broadway and broadcast on a Thursday. Additionally, for no very obvious reason, the two hour 20 minute film, which, can be seen via Broadway HD, is the karaoke version.
In any event, once viewers can get over the intrusive subtitles urging them to sing along, the revival, which was first seen in October 2016, gets into its stride immediately with the opening song, "Four Jews in a Room Bitching".
The fun that this witty song promises is bittersweet, since William Finn's 1992 musical deals with potentially heart-breaking material.
It is staged by James Lapine on a set designed by David Rockwell and comprising bland, blue blocks with a Manhattan skyline backdrop.
As anyone who saw the London première at The Other Palace will know, the main plotline is prefaced by a family breakup, as Christian Borle, somewhat incongruously given his name, portraying Jewish Marvin leaves his wife and son in the hope of finding happiness.
His vehicle is hunky Whizzer, a pretty but vapid nonentity, though in the person of Andrew Rannells he can sure sing.
The social embarrassment would be bad enough at the best of times but was compounded in 1979 with AIDS on the horizon.
As Marvin boldly announces on entering the archetypal midlife crisis, "I want it all", selfishly ignoring the desires of his handsome new beau, not to mention the devastating impact for Stephanie J Block's Trina and young Jason played by Anthony Rosenthal, both of whom visibly struggle to fight off entirely justifiable tears.
The first step on Trina's road to recovery is a session with hubby's psychiatrist Mendel, a nice insecure Jewish boy played by Brandon Uranowitz, so it doesn't take a genius to guess where that path is leading.
It is amazing the difference that the two years that pass during the interval can make, not only to a youngster now obsessed with girls and approaching his bar mitzvah but also the adults in this complex web of relationships.
The second act features the best comic song, "The Baseball Game", but also the traumas surrounding Jason's bar mitzvah, complicated by the extended family, which has now grown by a couple of lesbian neighbours, a doctor played by Tracie Thoms who tells us "Something Bad Is Happening" and a sunny caterer, Betsy Wolfe.
Oddly, the manifestation of the unnamed horror is symbolised by an uncharacteristic game of racquetball, which changes the tone of what had primarily been an unorthodox romcom.
A simple production that cleverly combines the psychological with the musical elements is dominated by an exceptional performance from Stephanie J Block, who not only draws great sympathy for an innocent woman caught in the middle of other people's problems but gets most of the best songs, especially "Trina's Song", which she belts out (twice) with heart and soul.
Reviewer: Philip Fisher