Falstaff
Music by Giuseppe Verdi; libretto by Arrigo Boito; based on The Merry Wives of Windsor by William Shakespeare
Opera North
Leeds Grand Theatre
–

Listing details and ticket info...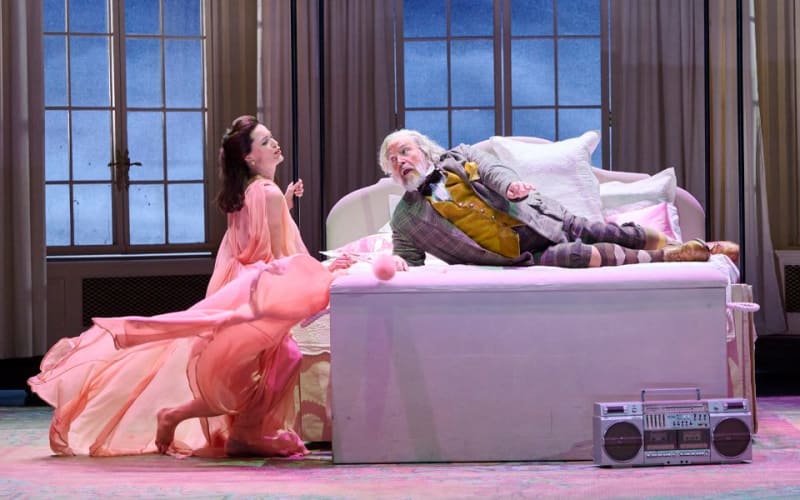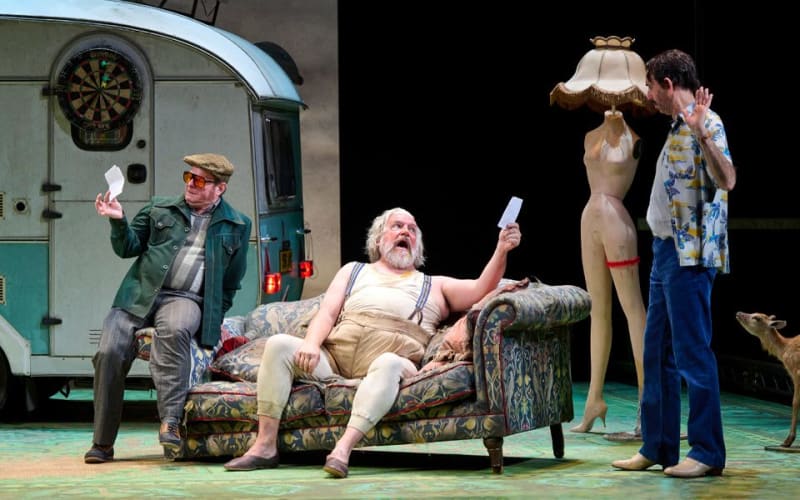 When one thinks of Giuseppe Verdi, it is usually his great tragedies that come immediately to mind. One might picture Rigoletto (1851), for example, in which a young woman is seduced and discarded by a womanizing duke, or La traviata (1853) in which a courtesan's love affair is cut short by tuberculosis.
After working in the tragic mode for several decades, one can appreciate Verdi's urge to move to lighter fare, hence the creation of Falstaff (1893). To quote the great composer directly: "after having relentlessly massacred so many heroes and heroines, I have at last the right to laugh a little!"
Based on The Merry Wives of Windsor (1597–1601), which is widely regarded as one of Shakespeare's weakest plays, Falstaff sees the eponymous knight (Henry Waddington) removed from the battlefield—where he achieved immortality in the Henry IV plays (1596–1599)—and placed in the more provincial world of Windsor, here imagined as a playground for 1980s yuppies.
Like The Merry Wives of Windsor, the plot of Falstaff is set in motion by two wronged women, Alice (Kate Royal) and Meg (Helen Évora), who wish to avenge themselves on the pot-bellied scoundrel who has penned them identical love letters. The result is a riotous farce in which Falstaff undergoes a series of humiliations, including being thrown into the Thames.
Directed with flair by Olivia Fuchs, this production of Falstaff is a sterling piece of work in which a relatively unloved Shakespeare play is turned into something truly joyous.
This staging has many virtues, but one of its most pronounced is Leslie Travers's sustainable set design. In an effort to be more environmentally conscious, this season of Opera North productions has been guided by the Theatre Green Book. This means that all three operas—Falstaff, Masque of Night (enjoying its world première) and La rondine (1916)—use shared scenic elements, all of which have been sourced from previous productions or bought second-hand. For example, the windows are taken from The Marriage of Figaro (last revived in 2020) and the vivid sky backdrop was last seen in last year's staging of Orpheus.
Falstaff's 1970s-style caravan is exquisitely detailed, beautifully conveying the squalid outsider existence that he has chosen to pursue. It also reminded me of the caravan which appears in Jez Butterworth's much-admired play Jerusalem (2009), which is apt given the parallels which are often drawn between Falstaff and Mark Rylance's now-legendary performance as Johnny "Rooster" Byron.
Travers's designs also work wonders elsewhere. The final scene, for instance, is dominated by an oak tree constructed of antlers—an image which drew amazed reactions from the audience and also feeds into the opera's theme of cuckoldry.
Henry Waddington is a delightful Falstaff, assailing the role with obvious glee. In addition to capturing the character's sense of mischief, he also endows him with a certain amount of wounded dignity. Kate Royal excels in the role of Alice, conveying the pleasure taken by the character in plotting her suitor's downfall. Isabelle Peters and Egor Zhuravskii sing beautifully as the star-crossed lovers, Nannetta and Master Fenton. The rest of the cast are notably strong, and the production ends in glorious fashion with the whole ensemble poking their heads through a ribbon curtain in order to sing a final fugue.
Under the leadership of conductor Garry Walker, the Orchestra of Opera North brings out the warmth, richness and complexity of Verdi's score.
Falstaff is one of the finest productions I have yet seen from Opera North, and given their outstanding track record, I can offer no higher praise than that.
Reviewer: James Ballands