The Marriage of Figaro
Music by Wolfgang Amadeus Mozart; libretto by Lorenzo da Ponte after the play by Pierre-Augustin Caron de Beaumarchais; English translation by Jeremy Sams
Opera North
Leeds Grand Theatre
–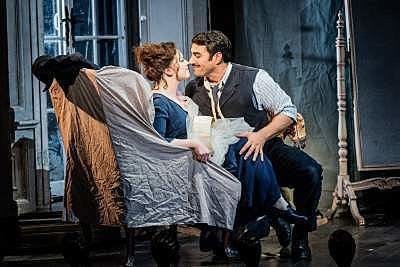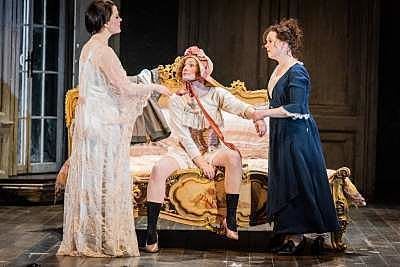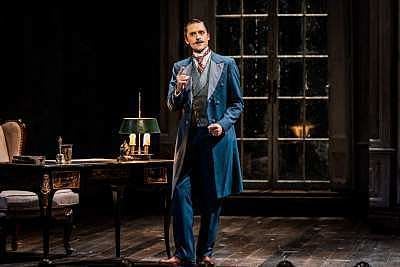 For many opera connoisseurs, The Marriage of Figaro represents the peak of Mozart's career. It's surprising, therefore, to reflect on the fact that when it was first performed in Vienna in 1786, it wasn't embraced warmly by the public. Nowadays, however, Figaro is widely regarded as perhaps the most crowd-pleasing of all operas.
Adapted from a scandalous play by Pierre-Augustin Caron de Beaumarchais, Figaro is a delicious farce of mistaken identity and misunderstanding that also plumbs the depths of the human heart. Figaro (Phillip Rhodes) and Susanna (Fflur Wynn) want to get married, but Figaro's employer—Count Almaviva (Quirijn de Lang)—is determined to enact his droit du seigneur by sleeping with Figaro's bride-to-be.
Meanwhile, the heartbroken Countess (Máire Flavin) is being pursued by an overly amorous youth, Cherubino (Heather Lowe), and the indomitable housekeeper Marcellina (Gaynor Keeble) is determined to have Figaro for a husband if he can't repay his debts.
I have had the pleasure of watching dozens of Opera North productions over the last few years and they've hardly ever put a foot wrong. This revival of Jo Davies's 2015 staging of Figaro is perhaps the greatest production that I've seen so far from this golden company. It is simply superb.
Loosely updated to pre-revolutionary Russia, the production is bathed in a Chekhovian melancholy thanks to the faded grandeur of Leslie Travers's set, with its peeling wallpaper and perpetual rain. Travers also draws attention to the illusory nature of live performance by giving us glimpses of behind the scenes.
The sadness of the surroundings, however, is offset by the brilliant comic interplay of the performers who wring out every laugh from Jeremy Sams's excellent translation of Lorenzo da Ponte's libretto. Phillip Rhodes is outstanding as the title character, combining great comic timing with a beautiful baritone. Fflur Wyn excels as Susanna, skilfully capturing the character's wit and mischievousness.
Quirjin de Lang has a gift for playing rotters and cads (witness his terrific cameo as an adulterous husband in Street Scene), and he brings great suaveness to the part of the rakish Count. Equally impressive is Máire Flavin who invests the Countess with a wounded dignity that is deeply moving, particularly during her gorgeous rendition of "Dove sono i bei momenti". Heather Lowe is the epitome of youthful lust as Cherubino and her performance of "Voi che sapete" was nothing short of electrifying.
The smaller roles are exquisitely filled by Gaynor Keeble's fruity-voiced Marcellina, Joseph Shovelton's waspish Don Basilio and Jonathan Best's vengeful Doctor Bartolo.
Figaro's divine score is brought to life by Antony Hermus's orchestra, which captures the narrative drive and psychological depth of Mozart's music.
The Marriage of Figaro is a triumph that had me grinning from ear to ear.
Reviewer: James Ballands