Falstaff
Giuseppe Verdi, libretto by Arrigo Boito
Metropolitan Opera House, New York
From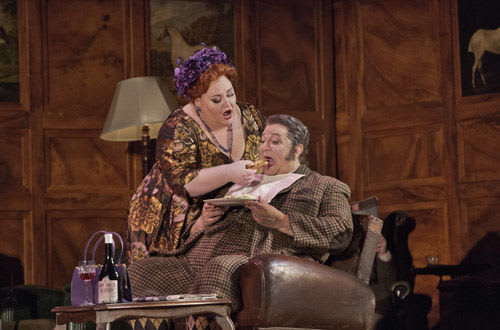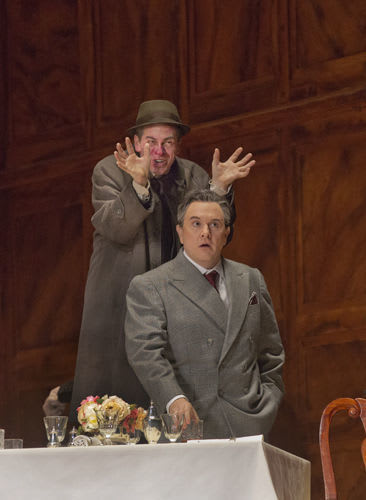 The word that best describes Robert Carsen's new production is fun. From start to finish, the story of a fat, (sorry, there is no other word for him) lecherous buffoon with a great voice chasing after a couple of Windsor wives is a comic delight.
It helps that the towering Ambrogio Maestri is a brilliant baritone but his sense of wounded humour is a big bonus as Shakespeare's comic, cowardly anti-hero repeatedly gets into trouble then ineffectually tries to extricate himself.
There are two sets designed by Paul Steinberg and, on the first, a massive pair of walls that are versatile rather than particularly attractive. Falstaff, hindered by his pair of pustulent pals Bardolfo and Pistola, sets out to woo a couple of married ladies.
In particular, Mistress Alice Ford, soprano Angela Meade, runs tuneful rings around her would-be suitor, aided by mezzo Stephanie Blythe's Mistress Quickly.
Much of the entertainment is generated by Franco Vassallo as Ford, the archetypal jealous husband afraid of being cuckolded.
The evening hits its first peak in the second act, by which time the drama has moved to a spectacular, vibrant yellow kitchen, c.1960s. Here, the old Lothario thinks that he is going to get satisfaction, but the plotting wives of Windsor have other ideas involving farcical hiding places and a double dousing for Falstaff and Ford to bring down the interval curtain on unrestrained laughter.
By this stage, a sweet sub-plot has been developing in which the Fords' daughter Nanetta, gorgeously sung by soprano Lisette Oropesa, tries to elope with her young man, Paolo Fanale's Fenton. This winds up her controlling father, who has found an ugly, older but richer man to marry her.
The shorter final act comes to relatively predictable conclusions for a comedy, thanks to typically Shakespearean subterfuge, and guarantees that the audience will leave happy.
While the plot ensures satisfaction, the setting, spectacle and delivery are equally pleasing. Director James Levine expertly conducts his own orchestra, while the singing especially from the larger-than-life Maestri is everything that one could wish for.
The prospect that this production might appear in the Live in HD DVD series (having been broadcast last month) will mean that British viewers who did not catch it at Covent Garden should be able to enjoy this sublime experience without the need to cross the Atlantic, although a visit to the Met is always highly recommended. 
Reviewer: Philip Fisher