Falstaff
Giuseppe Verdi
English Touring Opera
Hackney Empire and touring
(2005)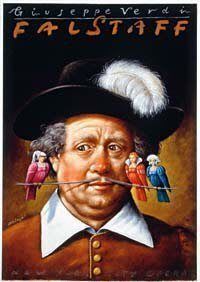 Verdi at the Hammersmith Empire. That virtually says it all.
No civil wars, no persecution, no witches, simply the composer's sunniest work, Falstaff, tunefully describing the Elizabethan machinations of Shakespeare's Merry Wives of Windsor and their lack-lustre husbands as they take gleeful revenge on the old rogue knight John Falstaff for his romantic duplicity.
This is surely Shakespeare and Verdi at their most mischievous. Even A Midsummer Night's Dream has sinister undertones while A Masked Ball is a conspirators' nightmare! Moreover, this production, courtesy of English Touring Opera, is splendidly directed byDamiano Michietto and has a new libretto by Arrigo Boito.
Falstaff here has the additional attraction of the restored, velvet tiers of Hackney's 105 year-old music hall, once the forum for the likes of Stan Laurel and W.C. Fields. A splendid London stage for opera and a variety of cultural events from international dance to pantomime. The Edwardian Marie Lloyd bar at the back of the stalls offers not only refeshments but also a relaxing vantage point from which latecomers may view the stage.
A fine company of principals, conducted by Stuart Stratford, is headed by the robust Andrew Slater who gives an imposing performance in the title role, well supported by Alan Fairs (Pistol), Ronald Samm (Bardolph) and Craig Smith (Ford). Strong performances, too, from Julie Unwin (Alice) , Wendy Dawn (Meg) and Harriett Williams (Mistress Quickly).While Rebecca Bottone and Thomas Walker blend sweetly as Nannetta and her suitor Fenton.
Joanna Parker's economic design fits snudly into touring venues, of which there are many awaiting this peformance together with Handel's Alcina and The Little Magic Flute.
Falstaff will be staged at Lincoln Theatre Royal (October 17& 19), High Wycombe (22nd), Canterbury ( 27 & 28th), Tunbridge Wells (4 & 5 November), Cheltenham (10 & 11 November), Exeter (15, 17 & 18 November), Cambridge (22 & 25 November), Bath (28 & 30 November) and Ulverston (2 & 3 December).
Reviewer: Kevin Catchpole