Family Honour
Kwame Asafo-Adjei
Spoken Movement
Contact, Manchester
–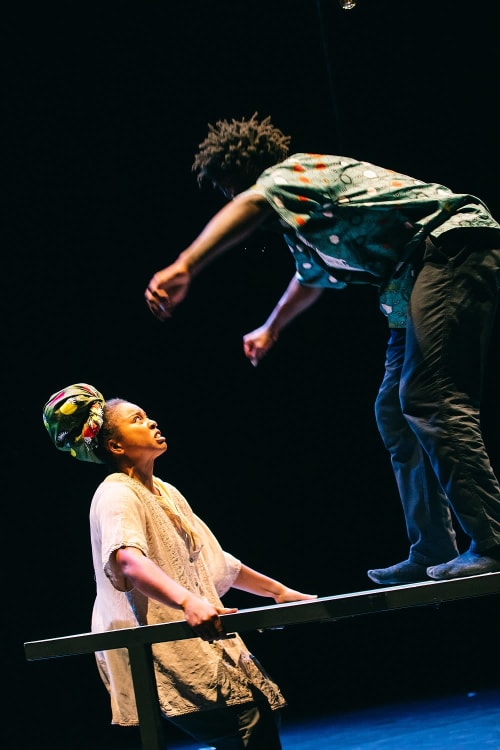 The circle of life takes a dark turn in Family Honour, choreographed by, and featuring, Kwame Asafo-Adjei. A once fire-and-brimstone Preacher (Kwame Asafo-Adjei) has become frail and forgetful with age. He has a fractious relationship with his daughter (Catrina Nisbett) and cannot avoid thinking about how, as a younger man (Stefano A Addae), his bond with her mother (also Catrina Nisbett) was likewise antagonistic.
There are moments of affection in Family Honour. The courtship between the younger preacher and his woman (he notably avoids saying 'wife') played to a jazz backing is flirtatious and even erotic. Yet the dominant mood is one of anger. There is the sense of stale disappointment fuelling a bubbling rage that erupts between the characters.
This may be partly attributable to the corrosive impact of age. There is a sharp contrast between the fluid, athletic movements of Stefano A Addae and the weary stance of Kwame Asafo-Adjei as the younger and older preacher. In a remarkable sequence, the latter seems to lose control of his limbs which twitch and pop spasmodically.
The vocation of the preacher is reflected in the ritualised manner in which the characters move. Meals are prepared and consumed as if part of a sacred ceremony complete with mumbled incantations.
Gestures are sharp and aggressive—breakfast bowls are slammed, rather than placed, onto tables. The table becomes both a barrier between combatants and the scene of violence with Kwame Asafo-Adjei seeming to be trying to exorcise, or perhaps strangle, his daughter. The sense of barely controlled violence is so intense it is something of a relief when the trio burst into an energetic dance backed by a pounding drumbeat.
This is very much a male-dominated society in which women are expected to know their place. Catrina Nisbett is shown literally stuck within a kitchen table. The theme of the preacher's sermon is the need for obedience. At one point, Catrina Nisbett and Stefano A Addae have a blazing row while seated in the audience with the latter carefully apologising to those around them for her behaviour.
Yet the complexity of the relationship between father and daughter and man and woman is apparent also in Family Honour. Despite father and daughter coming literally to blows, she still trusts him enough to jump blindly into the air confident he will catch her.
Family Honour, while compelling, is bleak. It portrays injuries which cannot be healed, only forgiven.
Reviewer: David Cunningham