Family Plays
A double bill
Royal Court Theatre Upstairsl
(2007)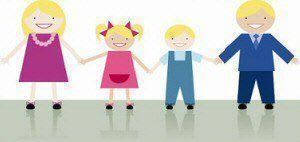 This evening lasts only just over an hour, even though it comprises two short plays and a lengthy interval as Ultz's set is re-configured.
The overarching theme of this international pairing is irony at contemporary existence, seen from two rather oblique angles.
The Good Family
By Joakim Pirinen, translated by Gregory Motton
The longer piece, weighing in at around half an hour, comes from a Swedish playwright Joakim Pirinen. Ultz has done director Joe Hill-Gibbins proud, maximising the sunny, comfortable living space of a perfect family by lining the audience around the perimeter of the Upstairs Theatre.
This is the kind of family, blissfully happy whatever the circumstances that you only expect to see in TV commercials or children's learning books.
Smiles are permanently affixed to the faces of parents Lasse and Eva (Jeremy Swift and Sam Spiro) and have genetically transferred to their two beautiful, teenage children who eschew spots and temper for mutual admiration on Lena (Daisy Lewis)'s 18th birthday.
In this parallel universe, the food is delicious, the washing whiter than white and the only risk of youthful dissension is headed off at the pass, as the kids accept that they must share washing-up duties rather than getting solo pleasure from the activity.
It says much about contemporary society that the natural reaction to this portrayal of what we all hope for quickly brings about a feeling of anticipation.
When will a fall from grace of biblical proportions occur? The moment surely arrives as Janne (Harry Lloyd) smilingly announces that he is homosexual. By this stage you crave parental angst and possibly even eviction but no. Mum and Dad are delighted at their son's happiness, while little sister looks forward to comparing notes about boys.
The Good Family is a well-acted example of sustained irony, packed with bonhomie that begins to wear thin by the end, but nevertheless charming and subtly refreshing. The real question might be why nobody has done this before? Although one suspects that someone somewhere has.
The Khomenko Family Chronicles
By Natalia Vorozhbit, translated by Sasha Dugdale
The contrast between the families in these two plays could hardly be greater, even if the same actors play the parents. While the tone of The Khomenko Family Chronicles is also ironic, the subject matter for this Ukrainian black comedy could hardly be grimmer.
Ultz moves from the biggest to the smallest of spaces, a Kiev hospital room on a stage 25 feet wide but low and narrow like a ribbon, thus conveying the way in which its tiny, hairless occupant is trapped. He is little Lyosha played by prodigious 11 year old, Lewis Lempereur-Palmer, who effortlessly steals the show from his experienced colleagues.
This terminally ill little boy is a victim of Chernobyl, an accident that happened years before he was born but is nevertheless the reason why over half of his young life has been spent in hospital.
Where Hollywood screenwriters would give a sick infant the kind of perfect parents seen in The Good Family, Natalia Vorozhbit does no such thing. Sam Spiro's heavily pregnant Lyuda is blowsy and tasteless, while her unloving husband twice over, Kostya played by Jeremy Swift, is a loutish slob who enjoys downing bottles of beer at his son's bedside.
This trio are symbols of the age, as their lives are measured in the last decade's disasters. The parents got together on the day that Chernobyl exploded and fell in love while getting drenched in toxic rain. They got (re-)hitched as the twin towers were collapsing and the almost-born little sister for Lyosha was conceived on the day of an attempted coup.
It may only last 20 or so minutes but The Khomenko Family Chronicles is a challenging drama that mixes humour with poignant tragedy to portray contemporary Ukrainian life, warts and all.
Playing until 21 December
Reviewer: Philip Fisher