The Family Reunion
T.S. Eliot
Donmar Warehouse
(2008)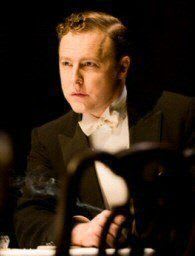 Director Jeremy Herrin has certainly been blessed with a stellar cast for this centrepiece in their T.S. Eliot Festival.
The poet turned playwright went out of fashion long ago and his plays are now rarely seen. While The Family Reunion feels dated, its combination of Greek Tragedy re-staged in a dusty mid-20th Century country house, characteristic poetry and a large element of supernatural mysticism can be intoxicating - when it doesn't leave the audience, like several characters, baffled at what happens before their eyes.
The basic plot is simple enough and has dark echoes of Festen, as family mysteries take time to trickle out. After an eight year absence, Harry, literally the Lord of the Manor, returns to Wishwood for his ailing but still terrifying mother's birthday.
His plight is gradually revealed by a bevy of ageing aunts and uncles and a cousin much closer to his own age.
Already, before Sam West's character makes his entrance, a quartet have transformed themselves into a poetry-spouting chorus, chanting mysterious lines that might have been drawn from The Four Quartets, in unison.
Harry himself is haunted by something even worse, the body of the dead wife whom he claims to have murdered. However, his distraught testimony might be questioned, as the young man suffers from schizophrenia and is regularly visited by a trio of cherubic Eumenides, the avenging Furies of Greek mythology.
After 2½ hours of often anguished debate and internal explorations, Harry finds a catharsis that kills his frail but domineering mother. In doing so, he proves that family history can never be escaped, which Eliot ably demonstrates several times over in the creation of this iconic family.
While the plotting can confuse as well as delight and the poetry is deliberately mystical, the performances are all to die for. There are so many fine actors on show that the following praise may sound like a long list of nominations for an awards ceremony.
West mixes absolute fear with eventual lucidity, Gemma Jones as his mother excels as an old woman who cannot accept failure, while Penelope Wilton and Hattie Morahan play eternal spinsters from different generations condemned to educating others of their ilk.
The quartet of Chekhovian supernumeraries with additional duties as chorus are William Gaunt particularly compelling as a genial aged duffer, Anna Carteret and Una Stubbs as dumb old broads and Paul Shelley playing a long-retired Colonel who probably had a life long ago, if only he could remember it.
Last but not least, come the bit part players and even they, Christopher Benjamin as the family doctor, Phil Cole playing a comic policeman and Kevin McMonagle in the role of the young Lord's omniscient Scottish servant, all have their high points.
Whether this revival of The Family Reunion and the staged readings of Eliot's other major plays, Murder in the Cathedral and The Cocktail Party, together with some poetry are enough to rescue his stage career might be questionable in the 21st Century.
However, this array of stars on top form in an intermittently highly entertaining psychological drama should draw audiences into the Donmar in the run-up to Christmas.
Reviewer: Philip Fisher