Fanny & Alexander
Based on the film written & directed by Ingmar Bergman, adapted by Stephen Beresford
Old Vic Theatre
–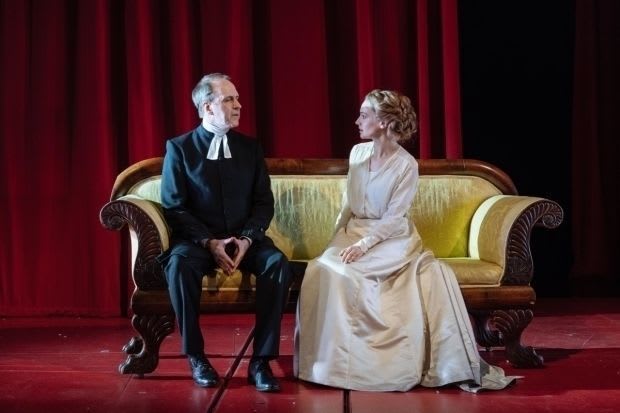 This sumptuous stage representation of Ingmar Bergman's classic movie from 1982 may last for 3½ hours including two intervals but effortlessly holds the attention as drama after drama impacts on the Ekdahl family in Uppsala Sweden a little over a century ago.
In the opening scenes, they are happily outrageous acting folk who rarely seem to regard societal norms as impediments to the pursuit of happiness or marriage is anything beyond a guideline to sexual fidelity.
With three generations to choose from, the focus moves around on a regular basis, commencing with the theatre company's happy family nativity led by Sargon Yelda's artistic but highly-strung Oscar and his beautiful actress wife Emilie, Catherine Walker.
In no time at all, we have been introduced to a dynasty, complete with servants, hangers-on and enough human paraphernalia to bring to mind Chekhov in light-hearted mood. A nightmarish visit by the Grim Reaper to bright, young Alexander, played on opening night by Misha Handley, foreshadows darker times and the imminent passing of Oscar, already artistically killed off by Penelope Wilton in the role of his selfishly shallow mother, Helena.
The first interval moves events on a year, to the point where the widowed Emilie agrees to take the hand of Kevin Doyle playing the local Bishop following her desire to provide a stable new family and home for the children.
They may not have been common at the time, but the Bishop is the kind of evangelical preacher who would happily have set up a fanatical cult in the name of the Lord. He demands that his new wife and stepchildren give up all of their worldly goods before moving into his puritanical home, complete with relatives straight out of children's nightmares.
In the light of recent revelations about the less savoury aspects of the church, some of the scenes involving this holy man with little Alexander and even smaller Fanny (Katie Simons on opening night) are truly terrifying.
Potential rescue comes in two unlikely forms. The first is Jonathan Slinger as boldly adulterous Gustaf Adolf, who managed to elicit spontaneous applause for his irate rant at the man imprisoning his sister-in-law, but more subtle and successful is Michael Pennington's Jewish senior citizen, Isaac Jacobi who helpfully happens to be the matriarch's ageing but devoted lover.
Max Webster's production is graced by some superb acting and a series of artistic vignettes, brought to the stage thanks to the joint efforts of set designer Tom Pye and costume colleague Laura Hopkins. Alex Baronowski's compositions played on piano and cello add greatly to the often eerie effects of an evening that contains a modicum of dream, considerably more of nightmare and depictions of grim realism that can at times be more frightening than either.
The real pleasure of Fanny & Alexander lies in its ability to move between moods and genres on a regular basis, while getting to the heart of what it means to be a human being, with life's pleasures and vicissitudes portrayed from the perspectives of everyone from lively youngsters through those on the cusp of adulthood to the mature and the elderly.
Stephen Beresford's adaptation works well on the stage and should appeal not only to Ingmar Bergman diehards but also anyone with a heart.
Reviewer: Philip Fisher