Fanny and Faggot
Jack Thorne
Lifeboat Theatre in association with 5065 Lift and Weaver Hughes Ensemble
Finborough Theatre
(2007)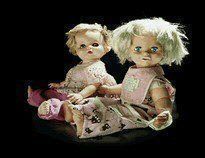 Little girls are supposed to be made of "sugar and spice and all things nice". Fanny and Faggot, the two (or four) girls portrayed in Two Little Boys, the first of this pair of interlinked short plays, are anything but.
The genesis of this story, set in 1968, was first seen at the Pleasance during the 2004 Edinburgh Festival Fringe. That was a time when the story of Mary Bell was making front page headlines on an almost daily basis.
She was a prisoner who was released from prison in her early twenties in 1980. Her crimes were the murders of two little boys when she was 11.
The media tracked her down in 2003 and the nation was aghast at the thought that she might be allowed to remain in the community. By then, the tabloids were almost setting up helplines for those who wished to organise vigilantes. The murderess, who was already forced to take an assumed name, eventually obtained an injunction protecting her anonymity but became an obvious topic for a drama.
Jack Thorne was riding high after his Cure Me played to considerable acclaim at the Bush. Life has got even better, as he has been signed up to write scripts for Shameless and the latest hot E4 drama series, Skins.
As you watch Fanny and Faggot, the skills of a screenwriter shine through. It has loads of jumpcuts, flashbacks and an easy feel. It also has great confusion. This has nothing to do with the two actresses who do a great job of switching between naughty, pubescent schoolgirls, the Bell sisters and court officials; the latter designated by crossed arms and the coke crates that they stand on.
However, apart from their accents, for much of the time, it is unclear as to whether the two girls are the Bells or as it turns out, representatives of their type. This is a serious shortcoming in the writing that director Stephen Keyworth might have been expected to sort out.
As it is, Elicia Daley as Mary and Sophie Fletcher as her elder sister Norma but also girls One and Two, manage to portray sympathetically four ghoulish youngsters. Of the latter pairing, one has been abused but because of her background, is convicted where her equally guilty friend/sister escapes because of her better upbringing and sounder family.
This half nearly works and with greater clarity of thought might have done so but left baffled audience members at the interval asking each other who was who and how many characters they had been watching.
After the interval, we meet Mary again, this time on her 21st birthday. She spends this potentially happy occasion in a grotty boarding house in Blackpool while on the run from an open prison (this actually happened) with her mate Lucy, played by Diana May.
They have acquired a couple of randy squaddies, overly smarmy Steve (Christopher Daley) and Simon Darwen's self-confessedly slow Ray.
Steve has only one thing in mind, so it is left to Ray and Lucy to help Mary to give an impression of what it is like to have spent your whole life from before pubescence in an institution and as a murderer.
This is quite amusing but rarely gets far beneath the murderer's skin, though there is a sex-scene of a duration that would normally only be seen with a XXX rating.
Jack Thorne is a talented writer who has taken on a daring and controversial subject but might have done far more with it, had he taken greater care. He is however really the flavour of the month as another of his plays, Stacy, opens at the Arcola less than a week after Fanny and Faggot and Skins has just started on TV.
Reviewer: Philip Fisher