Far Away
Caryl Churchill
Donmar Warehouse
Donmar Warehouse
–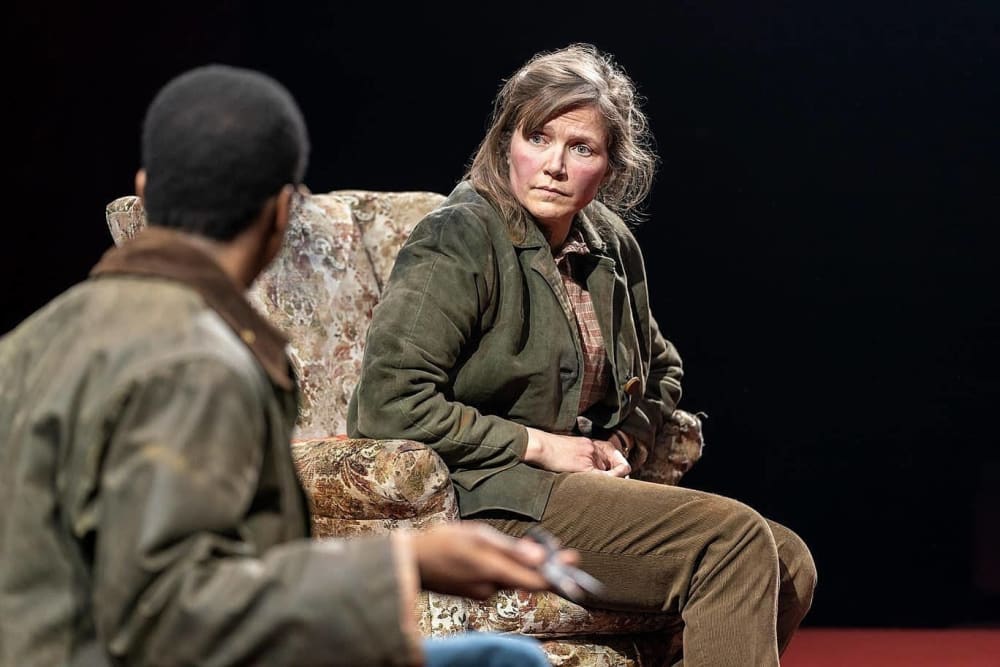 Caryl Churchill is as popular as ever and never seems to repeat herself. The 20-year-old Far Away may only last 40 minutes but competes successfully with late-era Pinter in its ability to convey threat.
Lindsay Turner's fresh interpretation, designed by Lizzie Clachan, opens with much of the stage area covered by what looks like a large metal box.
This rises to reveal Young Joan, an evacuee confidently played on press night by Sophia Ally. She has awoken in the middle of the night and is seeking comfort from her aunt Jessica Hynes's Harper, with whom she has been billeted.
In a kind of insidious catechism, the girl who cannot be more than 11 or 12 gradually corners her relation, asking increasingly condemnatory questions about the activities of her unseen uncle.
Despite protestations of innocence and tall tales that are obviously lies, the aunt continues to defend a man who appears to be involved in Nazi-style genocide.
The box falls in a brief, explosive blackout and almost instantaneously rises again to reveal that the backstage team has magically transformed the central playing space into a small section of a hat factory.
This is where a pair of milliners, Simon Manyonda as experienced Todd and Aisling Loftus playing tyro Joan, are engaged in creating ludicrous confections of the kind that might even raise eyebrows on Ladies Day at Ascot.
Here, the playwright's humour comes to the fore, although, having witnessed the opening scene, viewers would be wise to be wary. Soon enough, they are to discover the purpose of these hats, which is to adorn the participants in an unlikely but hauntingly unforgettable parade.
Once again, the scene does not overstay its welcome, the box falling and heading back into the flies to show us the final scene, which appears to take place a decade or so later and brings together characters from both of the earlier parts.
In characteristic Churchill style, Harper, with Joan and Todd who are now married, discuss atrocities in a particularly bloody war told in chillingly witty metaphors, which do little to hide the underlying terrors of a totalitarian state that could be Nazi Germany, any one of a dozen countries at the time the play was written or even a fictional variation on our own.
Far Away is the kind of play that lingers in viewers' minds for hours after they leave the theatre and, still almost as powerfully, 20 years after the unforgettable original production directed by Stephen Daldry at the Royal Court.
Reviewer: Philip Fisher