Farinelli and the King
Claire van Kampen
Sonia Friedman Productions and Shakespeare's Globe
Duke of York's Theatre
–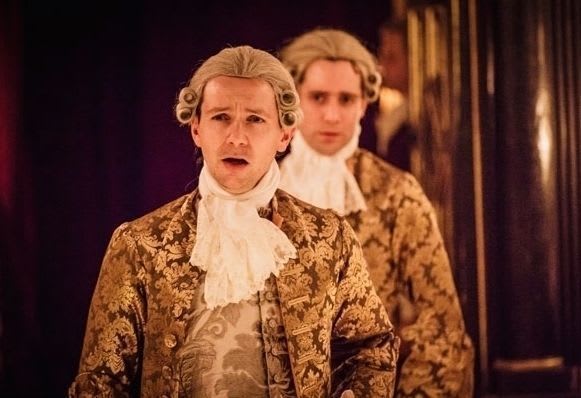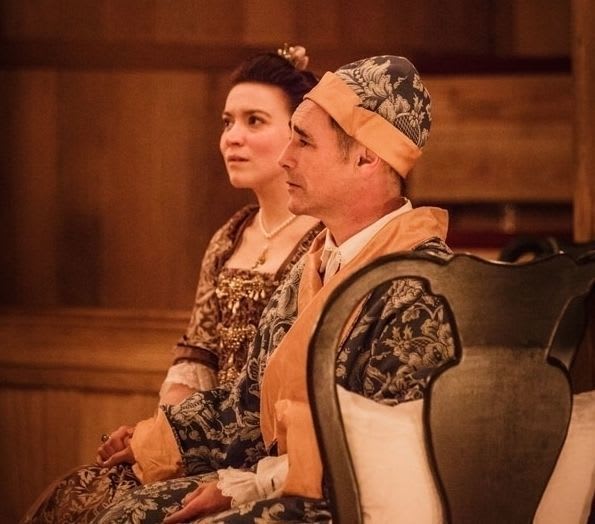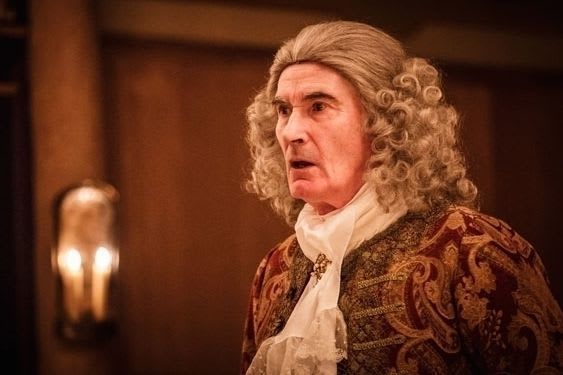 The candles have been lit, the musicians have been playing, the extra lights within the house go down a bed comes forward through the central doors of a simulacrum Sam Wanamaker Playhouse and a king is lying there talking to a goldfish as he holds a fishing rod over its bowl. His courtiers think him mad and want to take his powers away from him.
No, it isn't George III, England's famously afflicted Farmer George, but the earlier Spanish King Philippe V plagued by troughs of deep depression and fantasies. As Mark Rylance plays him, he is a gentle, loving soul who can spark into violent rages. The simplicity with which he approaches things marks an open mind, not stupidity.
When his chief minister De la Cuadra brings military accounts to ratify, he thinks to prove the king's incompetence but suddenly Philippe is completely lucid spotting omissions and errors: it is the minister who's lacking competence.
Edward Peel's arrogant De la Cuadra may think he has the king's doctor in his pocket but Dr José Cervi and Queen Isabella have a plan.
The scene now switches from Madrid to London and the present setting in the Duke of York's becomes even more appropriate than when first seen in February at the Wanamaker, for this isn't the seventeenth century but 1737 and we are in the Haymarket Theatre where librettist and impresario Metastasio (Colin Hurley) is presenting the internationally acclaimed singer Carlo Broschi, known as Farinelli, in one of his operas.
The boxes that extend from the stage to join circle fronts draped in rich red make this feel very eighteenth century.
Queen Isabella is there to coax Farinelli to Madrid. Cervi sees music as medicine and music is at the heart of this play. While Sam Crane presents a sensitive and caring Carlo, who at ten was castrated by his brother to preserve his pure voice, Iestyn Davies appears as a doppelganger to provide Farinelli's voice (with fellow countertenors Rupert Enticknap and Owen Willetts sharing the role over the run) and there is an excellent band led by MD Robert Howarth at the harpsichord.
A modern singer cannot replicate castrati and the arias have been chosen by the dramatist, herself a music specialist (formerly the Globe's Director of Theatre Music), and the singers to match their range. They begin with one from Poliferno by Farinelli's tutor Nicolo Porpora but are mainly from Handel's operas with Lascia Ch'io Pianga (Let me weep my cruel fate) particularly appropriately used.
The music is indeed beautiful: the stars literally come down to listen and we are even treated to an operatic and pyrotechnic deus ex machine, but John Dove's production creates its own magical world with superb performances from Rylance's witty and endearing monarch. Melody Grove is ravishing as his lovely and loving wife, beautifully handling her attraction to the singer and her loyalty to her husband.
Huss Garbiya is a retiring Cervi but a strong presence: the man who brings the common people from all around to listen to magic music in the forest depths where the king has Farinelli perform.
"Can you still fuck?" the king asks the castrati. Yes, he can feel passion—and pain.
This play is partly about frustration, melancholy too, but theatre and music together become a double therapy that soothes and gently amuses as well as offering a moving story.
Reviewer: Howard Loxton