Farinelli and the King
Claire van Kampen
Sam Wanamaker Playhouse at Shakespeare's Globe
–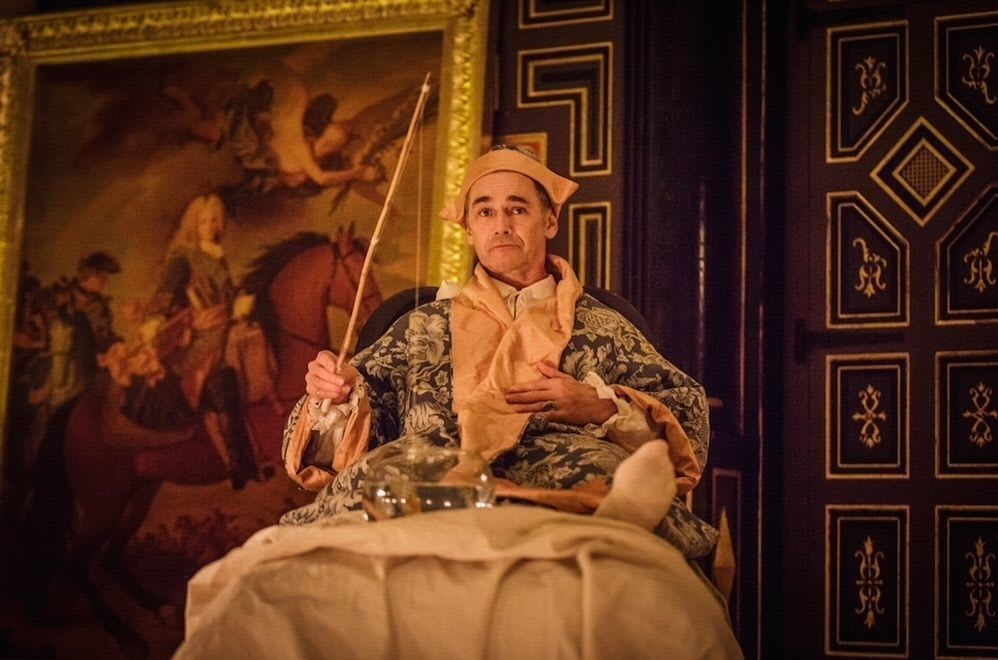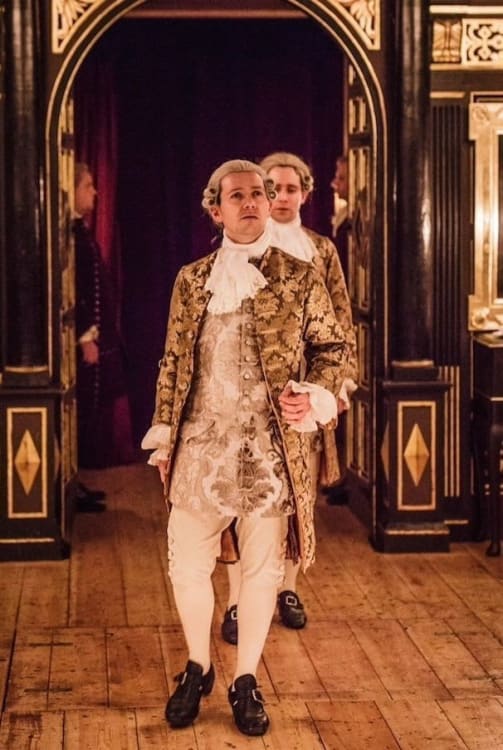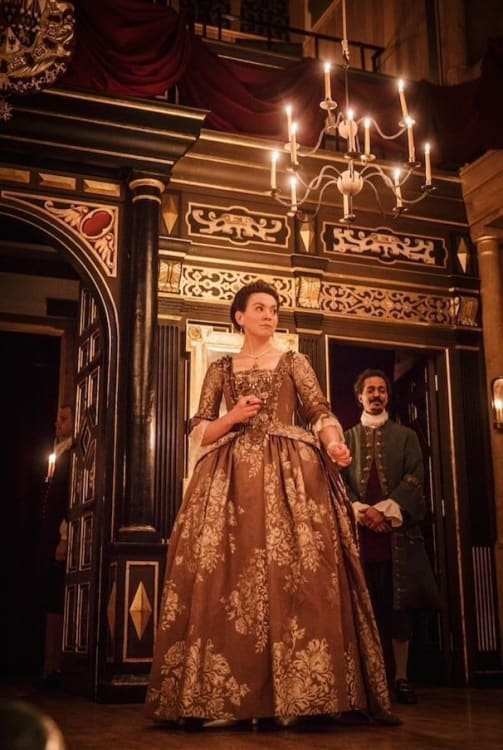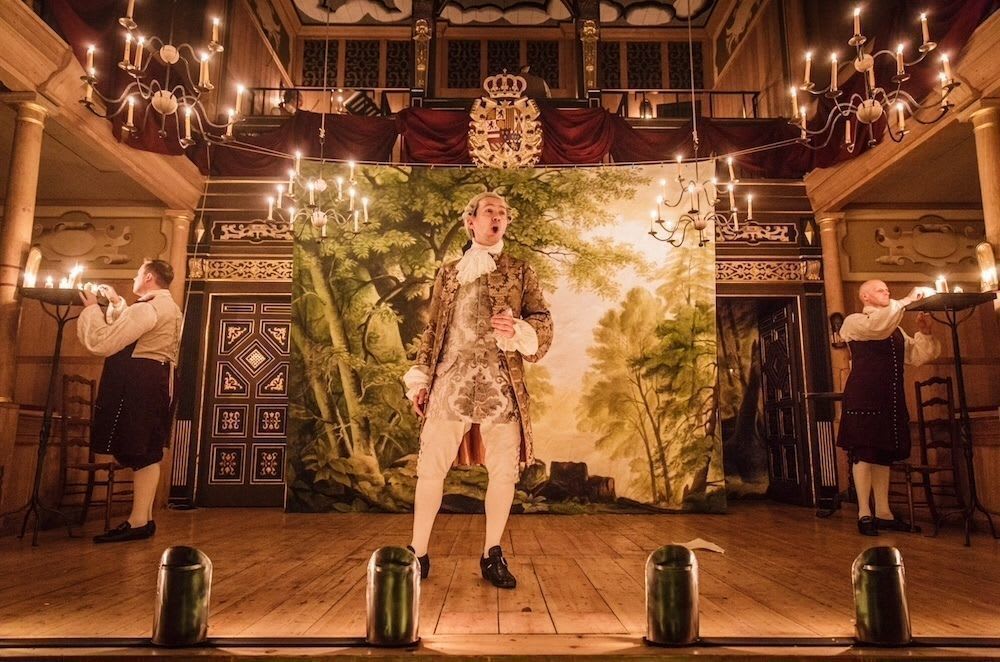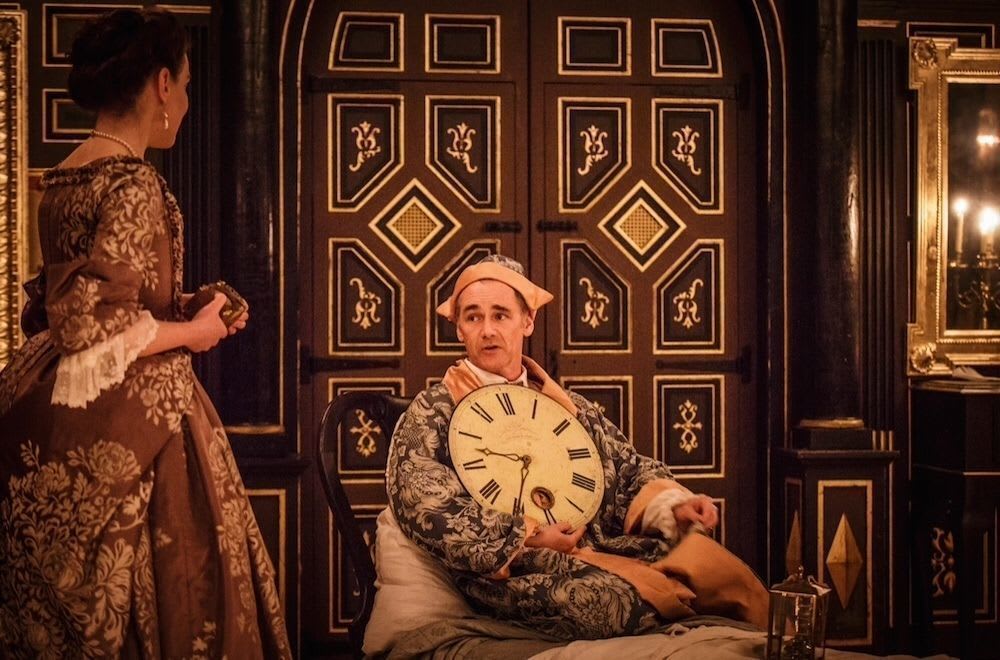 Once upon a time in the eighteenth century, there was a king who was mad. No, not King George III of England, but Philippe V of Spain, grandson of France's Sun King, Louis XIV.
Maybe not mad, just depressed and unable to sleep, or maybe what we call bipolar today. His second wife, Isabella Farnese (a truly scrumptious Melody Grove), and courtiers don't know what to do. But his physician Doctor Jose Cervi (Huss Garbiya) does. He knows about the healing powers of music. Music therapy.
Once upon a time, there was Carlo Broschi, or rather Farinelli, the world's most famous castrato, whose singing caused ladies to swoon and men to weep. Put the two together and what do you get? A frustrated librettist impresario, Metastasio, but a happy king and queen...
Was it as simple as that? Probably not, but what drew Claire van Kampen to this 'true' story was the unresolved mystery at its heart. Why does a singer at the height of his fame decide to stay in the court of Spain for more than twenty years and never give a public performance again?
Composer Van Kampen, running the Globe music department as Associate Director during her husband Mark Rylance's ten-year tenure there, knows a thing or two about the music of the sixteenth and seventeenth centuries.
Her experience and knowledge tell as she strikes out into the eighteenth century with her first play, an assured, charming and witty endeavour full of crude vernacular and anachronisms (a cappella / Acapulco) that strays into Carry On territory, helped by Mark Rylance's daffy mannered King, Edward Peel's gruff bluntness as Secretary of State De la Cuadra and Colin Hurley as a Kenneth Connor Metastasio. The audience love it.
The role is tailor-made (there's a little clue there) for Rylance's strengths. One wonders how much liberty he was allowed with the script with its 'olé', 'shit', 'pissed off', 'the clap', 'tackle up', 'kinging' to rhyme with 'singing', 'Rick the Knife'. A comedy-writing duo future surely beckons...
A vulnerable man-child, Philippe asks his clocks why they have many faces and never tell the truth. He talks to his goldfish as he tries to hook it out of its bowl. He addresses the audience.
And an audience is cleverly worked into the script: 'Who are these people?' 'The ground is hard' gets a laugh, as does 'never mind' to a clumsy audience member. Rylance is in his element.
Farinelli is a split personality, too—the public and the private persona—and the role is divided between actor Sam Crane (giving a touchingly quiet performance) and glorious countertenor Iestyn Davies (other dates field William Purefoy) singing half a dozen arias. It works beautifully.
A bonding and a meeting of kindred spirits in the 'music of the spheres', a harmony of notes vibrating off each other… Both the king and the celebrity singer suffer from childhood traumas: 'when were you robbed of your normality?'
Away from the troublesome court with its documents to be signed and preparations for war, the King builds a Petit Trianon deep in the forest to commune with the stars and the planets.
Every night Farinelli sings for the king—the arias are divine—naturally the queen is drawn to him, too, in this intimate proximity. Is this Farinelli's reason for staying, love for Isabella?
Philippe, Isabella and Farinelli live happily ever after in their Garden of Eden. Well not quite. The King dies of a swollen tongue. A potted version of what happens next is given exposition, and Farinelli retires to Bologna. He never sings again.
Well not quite. There's a lovely coda. A tailor will take no payment for his work other than a song he heard when he was ten years old. Farinelli was ten years old when castrated. The song is Handel's poignant Lascia ch'io pianga—Let me weep my cruel fate, and that I should have freedom.
So there we have it, a fairy tale about what the soul craves. Not riches, honours, or status.
Van Kampen admits that her interest was piqued by the 1994 Franco-Italian Farinelli film (the Broschi brothers as tandem lovers), but it's the humanity she addresses with a lightness of touch at the centre of Farinelli and the King that moves the heart, and Philippe's curious child-like directness.
He wants to know if castrato Farinelli can still 'fuck'—the king can ask any questionable question in his fey dream world. "To sing like that is also to fuck women. The readiness is all", observes former Hamlet Rylance as Philippe.
Inevitably, the 340-seater Sam Wanamaker Playhouse has returns only. It is worth queuing. Luscious design from Jonathan Fensom, Robert Howarth on harpsichord, John Crockatt on baroque violin, Jonathan Byers on violincello and Arngeir Hauksson on lute and recorder, this play with music under the direction of John Dove is both deliciously delirious and competently compos mentis.
Reviewer: Vera Liber