Farley's Date
Mark Homer
Little Homma Productions
Brockley Jack Theatre
(2009)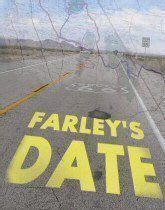 In Farley's Date Farley wakes up on the sofa feeling like the scum "on the worst pond in the world". Partly this is due to the fact that girlfriend Holly has left him and partly this is due to the many consoling beers consumed the night before with best mate Jace.
The evening had been spent, can in hand, re-planning their youthful dream of 'doing' the American southwest Easy Rider-style, but when about-to-be-married Jace tries to back down in the cold light of sober day, Farley won't have any of it and manipulates the situation and Jace to get his own way.
Mark Homer's writing is adroit. Although Farley and Jace are polar opposites their relationship is well-expressed and convincing, and although Homer might have written the part of Jace with himself in mind there is no hint of cherry-picking.
The plot is familiar but the well-imagined, consistently funny dialogue provides a refreshing and entertaining approach to it. There are a number of surprises and twists as the story progresses, and although these also are not universally original there is undoubtedly a skill at preparing for a turn without signalling its impending arrival.
Homer has an excellent feel for a funny line and at finding humour in the most tragic of events, and then using humour, or the absence of it, to provide focus where it's needed.
Mark Homer proves himself to be a very capable actor as well as writer (I can't imagine him being involved with EastEnders!) and Matt Warman, who is naturally funny, is outstanding as Farley, a bit of a looser but amiable. Helen Barford gives a persuasive performance as bride-to-be Stella, practical but winning, and Jayne Denny ably handles Tina, who finds herself amongst the ménage and whose grounded approach provides contrast to the root-less.
Rob Crouch directs the fluent cast of four and you can sense a 'comic chemistry' between them. What a shame the run of Farley's Date was a fleeting four performances.
Reviewer: Sandra Giorgetti