The Farnsworth Invention
Aaron Sorkin
Music Box, New York
(2007)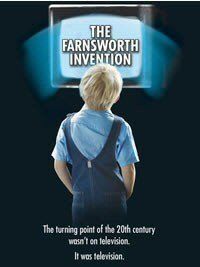 The Farnsworth Invention is a morality tale set in the 1920s and 1930s but with much to say about society today.
As one of the co-narrators identifies early on, the story that it relates will come as a surprise to Brits, who know for a fact that John Logie Baird invented television, not some hick Mormon son of a Utah potato farmer.
The creative team behind this project are doing well at the moment. Writer Aaron Sorkin has made it big in film and TV. The man behind The West Wing also has a film, Charlie Wilson's War starring Tom Hanks and Julia Roberts opening in the US imminently.
His director Des McAnuff will become much better known in London in the New Year, having fulfilled the same role in the Broadway smash hit Jersey Boys that is set to take London by storm.
The Farnsworth Invention has the feeling of a movie, with a soundtrack that is sometimes intrusive and very short scenes, helped along by a pair of narrators filling in the gaps in each other's stories.
In simple terms, Jimmi Simpson's Philo Farnsworth is the decent, inspirational scientist who incidentally plays a violin to professional standards, while the character played by Hank Azariah, Russian immigrant David Sarnoff, is a ruthless businessman, with a gift of foresight like Cassandra's.
Their paths do not cross directly but, through the medium of sending pictures across the ether, eventually to become television, they become rivals in the race to achieve one of the most important developments of the Twentieth Century.
Sorkin, who also created A Few Good Men on stage and screen, is a consummate story-teller, going to extraordinary lengths in his construction to make points and build up the drama. At times, he overdoes this so that the result looks manufactured: for example as time and again, someone will half leave a room then return to make a telling comment.
The underlying story all sounds pretty unbelievable. The barely-educated farmer's son is a genius who at 12 literally completed a whole year's science course overnight and, in his spare time, invented the ignition lock and key.
Within a decade, Farnsworth has conceptualised the principle of television. In parallel, Sarnoff sees the potential of radio broadcasting and has miraculously risen to run sequentially a stream of major American companies that are still household names today, most significantly, Marconi, RCA and NBC, which he created.
While Farnsworth ploughs forward on a shoestring with a team primarily made up of members of his family, Sarnoff's major corporations cannot achieve as much until they go in for some shrewd industrial espionage. Suddenly, NBC has "invented" TV and our hero is left to drown his sorrows on the way to a sad, lonely death decades later.
It appears that when TV left him behind, Farnsworth moved on to nuclear fusion! In any event, a play that sets science and morality against money at all costs seems very topical. So did the brief portrayal of the collapse of the New York Stock Exchange heralding The Depression, which feels terribly close to what almost happened to the Northern Rock Bank recently.
With strong, heavily contrasting performances from the two leading actors, supported by sixteen more, many playing several parts, the powerful and ultimately satisfying story carries the audience along.
There are sharp, generally glib one-liners and regular revelations about the creation of inventions and corporations that we know so well today. Such is the regularity of the name-dropping that one almost wonders whether some brand placement has gone on, mirroring the cheap commercialisation of radio that Sarnoff abhors.
It can all seem a little far-fetched and contrived but a populist straight play on Broadway, especially an entertaining one with such a strong plot, is almost as surprising as the invention of TV and we must all pray that it succeeds and encourages others to follow suit.
Reviewer: Philip Fisher