The Far Pavilions
Music by Philip Henderson, book & lyrics by Stephen Clark, based on the novel by M.M. Kaye
Shaftesbury Theatre
(2005)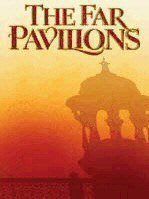 Writers are competing for the most appropriate artistic imagery to describe the new musical at The Shaftesbury Theatre based on MM Kaye's novel, The Far Pavilions.
For some, it's Mills & Boon while, for other scribes, the model is Les Miserables. A.R. Rahaman's Bombay Dreams is also brought into comparison. In all cases, however, the object is to convey an impression of what Far Pavilions is not quite up to. For my two penn'orth, then, I'll add Frank Richards and Sigmund Romberg.
Not that terms of such deprecation matter in the face of the real cause for regret: the waste of an opportunity for a rare meeting point of Anglo-Indian cultures.
Mollie Kaye's book is a good yarn based on personal acquaintance with Queen Victoria's Own Corps of Guides in which her husband served. Yet this tale of mid-19th century rumblings in the outposts of the young Raj fails entirely to raise gung-ho spirits in the ranks out front!
On a practical level, Philip Henderson's score sets new standards in blandness. There are musical moments, such as "Why did you bring the Memsahib?" sung by the Corps of Guides, who form the centrepiece of the novel. There is, too some splendidly sultry movement from the scantily dressed Asian dance corps.
For the most part however, the numbers are forgettable with the acting generally predictable - when in doubt declaim!
Hadley Fraser makes a fair fist of the handsome outcast Ash. But with the possible exception of Kabir Bedi's Khan Sahib, there is little in the way of real character to be seen from the remainder. Simon Gleeson, as Lt Hamilton, actually mentions the hat he never wears, not even on duty!
Most of the company are required to sing at the lighter edge of their voices. This, together with the obligatory radio mics, even in this relatively small theatre, ensures anything like individual vocal timbre is precluded. To think that live shows once bred stars like Tauber (in popular mode), Keel and even Hanson
Les Brotherton's designs, always busily repeating themselves, are worthy of serious perusal by professionals thinking ahead to the 2005 pantomime.
Perhaps, after all, there remains a place in The West End for The Desert Song.
Reviewer: Kevin Catchpole