The Fastest Clock in the Universe
Philip Ridley
Hampstead Theatre
(2009)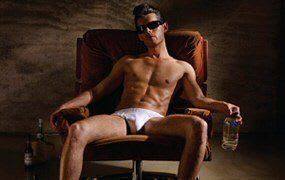 It is perhaps fitting that, as part of the Golden Jubilee celebrations at Hampstead, Anthony Clark has commissioned a revival of a play which, on the surface, seems completely out of place in a theatre that typically caters to the respectable intelligentsia of North West London.
Philip Ridley was not only a pioneer of In-Yer-Face Theatre but mastered his trade around the corner in the fondly remembered Portakabin, which housed the theatre for most of its first half-century.
While this play might have been engendered by the darkest elements of Orton and Pinter, for better or worse Ridley has a unique and instantly recognisable authorial voice.
The Fastest Clock in the Universe is a play that, from its haunting opening image of a suffering magpie, is deeply unsettling before taking a turn for the worse. It then winds its way to an ending that led one audience member to leave at breakneck speed, sadly before having the opportunity to learn the play's rather sweet and surprisingly conventional moral.
The opening scene sees the avuncular and compelling Finbar Lynch's toadying Captain Tock ministering to the psychological needs of Cougar Glass, a narcissistic ode to male vanity. Alec Newman plays this posturing pervert, a man who is excited at the prospect of yet another 19th birthday party but more particularly his sole guest, the under-aged Foxtrot Darling, played by Neet Mohan.
Unfortunately for Cougar, his paedophile passions are obstructed by the efforts of the ultimate Essex girl, Sherbet Gravel. Jaime Winston, who despite a long film CV is apparently making her stage debut, gives a brilliant portrayal of a belligerent teenage punk with an unexpected love for tradition.
Despite the efforts of the actors and director Edward Dick, Phillip Ridley takes overly long in setting the scene prior to the interval. In that time, he paints a chilling future in which birds might be taking control of a slightly out of focus world.
Designer Mark Thompson does a good job of creating an antiquarian/junk shop atmosphere. He does so with the aid of much unadorned dark wood and birds. The latter are exemplified by a large collection built up with the help of every taxidermist in town, supplemented by ornaments and pictures.
The road to a shocking finale builds through the second half as the provocative Sherbet winds up Cougar till, like the titular clock, he loses control with truly revolting consequences.
The Fastest Clock in the Universe is a timely reminder of the diversity of programming that Hampstead Theatre has promoted over the last fifty years. It will not be to everybody's taste but once it gets going, is, in the literal sense of the word, unforgettable.
Playing until 17 October
Reviewer: Philip Fisher