Fat Christ
Gavin Davis
King's Head Theatre
(2008)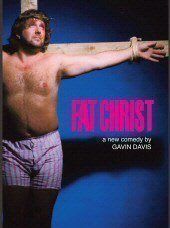 Will Christian theatregoers be offended by Fat Christ? - well possibly, but they are more likely to be disappointed by the rather lame ending of this play which lets down an otherwise largely able piece.
The story revolves around loving couple Jack Taylor and his wife Lily who were plunged into debt when Jack's venture into film-making went belly-up. They have been forced to sell their house to cover what they owe but are short £10,000 and with Jack having no job it's hardly surprising that pragmatic Lily openly admits, "I hate my life".
The Taylor's friends, Dick and Susan Frobisher, are largely the reverse of Jack and Lily, being an apparently loveless couple well furnished with material assets, courtesy of Dick's job as a commercial estate agent.
The parallels are written well particularly when the couples argue: Lily, who is pregnant, is all frustrated concern wanting Jack "to concentrate on one thing" - albeit window-cleaning - to get them out of their financial predicament, whilst creative Jack "bounce-back lucky bastard" (as Dick describes him) resists the straightjacket of conventionality.
Susan, on the other hand, has a despising line in offence when it comes to arguing with shallow Dick who she likens to a "little dog that humps everything in sight".
The character of Dick is unevenly written. Whilst I was convinced that he and Jack could be mates, I was left wondering why Susan stayed with a jack-ass that wants his dinner on the table and thinks blow jobs from female colleagues don't count as infidelity. Having said that, Tim Downie manages to imbue the characterisation with some charm and is pretty marvellous as Dick, particularly when partying on champagne and a snort of cocaine.
Abi Titmuss fails to impress as Susan though in fairness it's no great role and a lovely-looking, busty blonde who many will remember from her topless days has to work jolly hard to convince as a dull, sexually frosty housewife. Jennifer Matter makes for a sincere Lily, a part that should have been expanded to balance the ego of Jack Taylor the role, the actor and creator.
Jack Taylor was made to play Jack and he does so very energetically getting every bit of fun and humour from the role; he makes him rather adorable. However, it is a weakness of the piece that everything revolves around Jack the engaging chancer who has huge charisma but is fundamentally rather empty.
The set changes need to be significantly tightened - they were so slow they broke up the pace of the play and a word also has to go to Katherina Radeva who provided a very serviceable set but whose choice of party frocks is nothing short of ghastly.
On the flipside, elements of the dialogue are extremely funny and, although some the farce-like scenes are predictable, they are very entertaining.
As I don't want to give away the final twist it has to be enough to say that I felt no triumph or satisfaction in the conclusion - since there were no markers and no build-up, it was more of a 'is that it?' than an uplifting ending. And that's a shame. The play that had gone before deserved better than that.
Go and see this play, not for the ending but for the fun you can have getting there.
"Fat Christ" runs until Sunday, March 23rd, Tuesday to Saturday at 7.30pm; Saturday and Sunday matinees at 3.30pm.
Reviewer: Sandra Giorgetti