Father Comes Home from the Wars
Suzan-Lori Parks
Public Theater
Royal Court Theatre Downstairs
–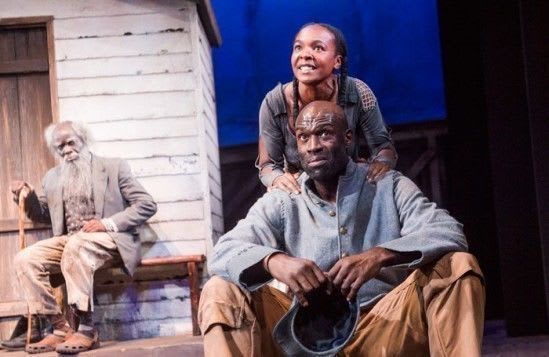 This powerful indictment of life for the American Negro some 150 years ago could hardly be more timely, as the country once again reaches boiling point over issues of race.
Nobody could doubt Suzan-Lori Parks's ambition in a trilogy that attempts to encapsulate the African-American experience during the Civil War in a three-hour epic.
The writer's style attempts to embrace the techniques of Greek myth and also borrows from the master of this particular historical genre, August Wilson, while relating a stirring tale of passion, betrayal and slavery against the backdrop of internecine strife on both a personal and national level.
She succeeds up to a point in an evening that can ramble but makes a series of powerful points about humanity, love, slavery and, above all, freedom.
The opening witnesses a vacillating Hero, played by the handsome, hulking Steve Toussaint, trying to decide whether to join his treacherous master on the wrong (Confederate) side in a war to uphold the principle of slavery.
We soon learn of his duplicity which quickly belies the name given to Hero by his white owner but also meet Nadine Marshall's Penny and discover her blind, unbridled love for the big man. In turn, Jimmy Akingbola is wise, noble, one-footed Homer, whose love for her is equally strong.
The second Part follows Hero to the battlefield, where his owner, John Stahl's bigoted Colonel, finds more common ground with Tom Bateman as his caged Yankee prisoner, Smith, than his own seven-soldier. However, as secrets spill out, we discover a hidden bond between Smith and Hero that adds spice to the meeting.
The final Part reprises many of the actions of the first, after Hero, now Ulysses, returns having lost the Colonel and the war.
Now, it is Homer and Penny who vacillate as good and bad news accumulates, unaware of a hidden bombshell that has the ability to change all of their lives.
A small chorus keeps the evening moving by delivering a poetic exposition, complemented by the blues guitar (and later banjo) of Steven Bargonetti, who also sings a series of poignant songs written by Miss Parks.
Under Jo Bonney, who directed the original production at the Public Theater off-Broadway in New York two years ago, the support is also strong, with the most memorable (and funniest) characters Leo Wringer as The Oldest Old Man, self-appointed father to Hero and Dex Lee portraying suitably shaggy and intelligent Odyssey Dog, an eloquent mutt with a nose for trouble.
While Father Comes Home from the Wars (Parts 1, 2 & 3) can sometimes seem as overblown as its title, it is still a thought-provoking, enjoyable and politically supercharged play of the kind that fits perfectly into the Royal Court new writing tradition.
Reviewer: Philip Fisher