Fatherland
Tom Holloway
The Gate, Notting Hill
(2011)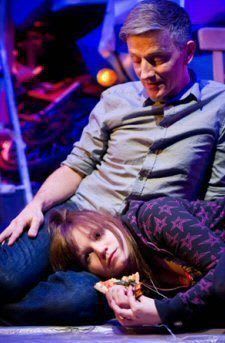 Tom Holloway is clearly not a believer in making life easy for his audience. This edgy, hour-long two-hander leaves an awful lot to the imagination or at least interpretation.
His collaborator Caroline Steinbeis won the James Menzies-Kitchin Award for young directors and shows real imagination in the staging, getting good support from Max Jones, Johanna Town and Simon Slater for design, lighting and sound respectively.
A father and teenaged daughter, played by Jonathan McGuinness and Angela Terence, live together in a home that is in the middle of redecoration. Mother is nowhere to be seen and is never mentioned.
The relationship between the two is in many ways typical of parents and teenage children without siblings. Love and frustration flow in both directions in pretty much equal measure. In seconds, a smiling alliance transforms into snarling antagonism and vice versa.
Throughout, Miss Steinbeis's stylish and impeccably acted production oozes menace. It also contains moments of meaningless but challenging excess, first as a heart crashes from a Christmas tree while another is highlighted and then, more spectacularly, when the pizza supper arrives through the wall, along with its mode of transport. This is a play where symbolism appears to matter a great deal, particularly as the script is so opaque.
As the visual and audible enhancements flow, the pair talk about themselves and their history, letting us decide that Angela and her Dad are loners with nobody to offer support but each other.
Their fear of the outside world, or possibly a more specific communication, is symbolised by mutual frozen panic every time that the never answered phone rings.
Physically, there is a suspicion that the pair are unhealthily close but one can't really be certain. The sickening climax is something else, owing much to a nightmarish variation on magic realism.
By that stage, we have a good picture of a father and daughter who are claustrophobically connected but anything more will lie in the eye of the beholder, which is the weakness of the play or production.
If one accepts the unspoken idea that Fatherland is a play about abuse, everything falls into place, justifying Angela's terrible unhappiness and Father's ambivalent behaviour. It then becomes a highly powerful, if still overly mysterious piece of theatre.
Reviewer: Philip Fisher