Faustus: That Damned Woman
Chris Bush
Headlong and Lyric Hammersmith
Lyric Hammersmith
–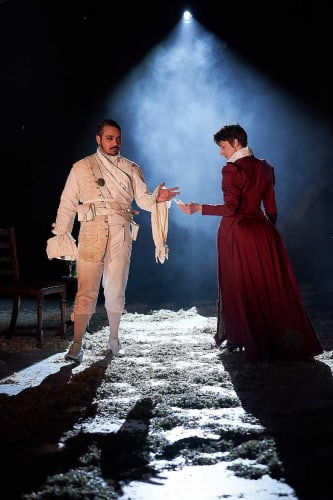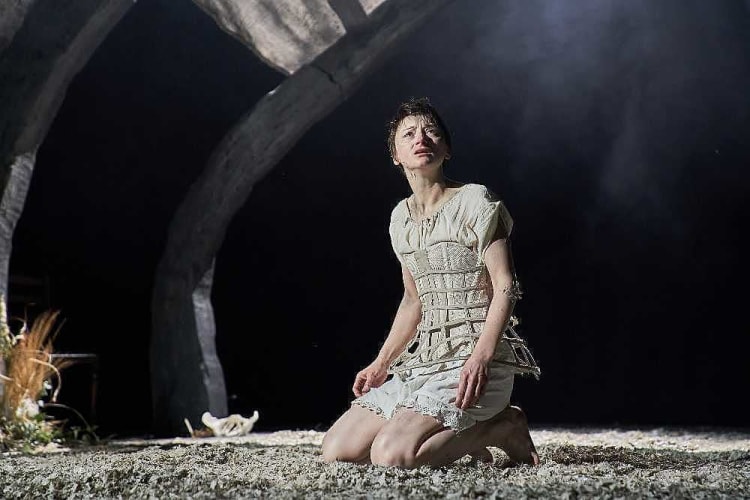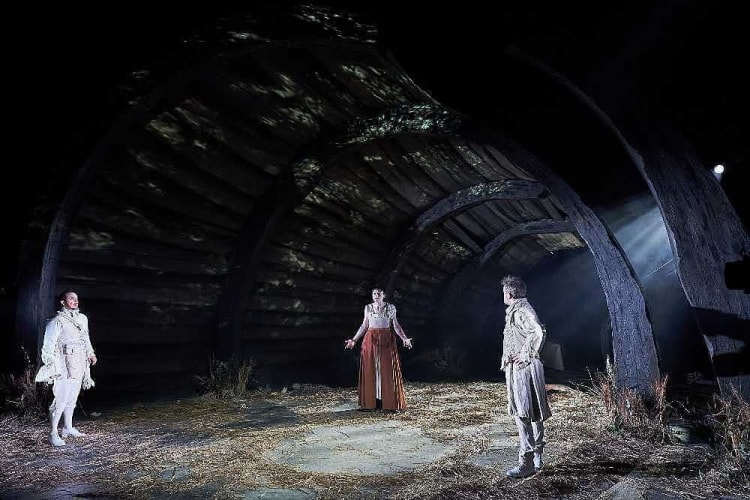 Nobody could fault Headlong and the Lyric for their ambition in commissioning Chris Bush to create this 2¼-hour riff around the Faust myth.
In the 21st century, it seems almost inevitable that the protagonist should be female. This takes the story a little further away from Christopher Marlowe, Thomas Mann and so many others but adds a new dimension.
The evening is played out inside what looks like a broken jet engine, which is adorned with telling projections and becomes increasingly dilapidated in suitably symbolic fashion. Here, the play opens at some point in the first half of the 17th century as a woman is tried and condemned for witchcraft.
Move on 20 years and young Johanna Faustus, an amateur apothecary following in her father's footsteps and played by Jodie McNee, seems on the brink of madness as she attempts to communicate with the Devil in an effort to clear her mother's name. A series of somewhat ponderous scenes eventually yield pure gold as Barnaby Power, who had just been portraying the young woman's father, makes a reappearance as Lucifer himself, accompanied by Danny Lee Wynter as a rather effete Mephistopheles.
The desperate woman is a touch reluctant to make a pact with the Devil but eventually does so, accepting fiery Purgatory in perpetuity in exchange for information about her mother and 144 years of hell-raising. The specifications are far from her ideal, since she cannot go back in time but is able to jump forwards centuries or millennia, a helpful plot device. While still testing out her magical powers in the company of Mephistopheles, Johanna Faustus takes on the plague successfully, although the Great Fire of London is a regrettable by-product.
A 200-year jump brings her into the modern era and a meeting with Dr Garret, the first ever female doctor. This leads to a comic misunderstanding but also some trenchant observations on women's role in English society. The next scene at the turn of the 20th century has a similar impact as our anti-heroine comes into contact with Pierre and Marie Curie.
Dr Faustus only really hits top gear in the current era, running an Institute designed to cure all ills and achieve immortality, although some of the implications of this latter state remain unexplored. The final scenes take us a millennium into the future and come to the inevitable tragic conclusion that was foreshadowed by the deal with Lucifer and so many mythic predecessors.
Under the direction of Caroline Byrne, Jodie McNee delivers an exhausting, committed performance and is wonderful in the title role. She is particularly well supported by Danny Lee Wynter, who excels when offered throwaway comic lines, and a hard-working cast of only seven who magically seem like many more.
Faustus: That Damned Woman is far from a perfect play but, after a somewhat ponderous start, is challenging and always intriguing. As a result, it will set viewers thinking about women in society but also so many of the ills that we have suffered through the generations, which is no bad thing.
Reviewer: Philip Fisher