Faustus
Christopher Marlowe, adapted by Rupert Goold with Ben Power
Hampstead Theatre
(2006)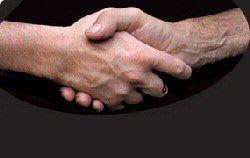 There might be some rather heated debate amongst the critics about whether this play is a biting satire on the pretentiousness of Brit Art or an eccentric reworking of Marlowe's Dr Faustus.
The give-away might be in the title, which drops the Doctor used by the contemporary of Shakespeare and thus distances itself from the 400 year-old classic from which approximately half an hour out of two-and-a-half is taken.
In the opening scene, played out in a colourless book-lined room, Scott Handy, delivering his verse beautifully introduces us to the Doctor, ravished by magic and necromancy, who will sell his soul to Lucifer for 24 years of sinful happiness.
Suddenly, Laura Hopkins' wonderful set opens out and we are introduced to a hilariously pretentious gay art critic, Foster played by a mincing Mark Lockyer, who has the scoop of the century (in this case the 21st). We are suddenly in the world of Art or Up For Grabs as the visual arts are debated and dissected on stage.
Foster has been invited to their Hoxton studio by the notoriously camera-shy artists Jake and Dinos Chapman, the Gilbert and George of the Sensation generation. This pair are played with intensely comic sincerity by Stephen Noonan and Jonjo O'Neill who convincingly trot out deeply committed but often meaningless artistic statements that no one could be expected to believe such as "they're fascists and we are radicals".
There he is to conduct an interview about their latest work, a defamation of some drawings by Goya ("the first snuff art") which graphically depict the horrors of war.
The play, in which the writing of Ben Power and Headlong (Formerly Oxford Stage) Artistic Director Rupert Goold eventually overtakes that of Christopher Marlowe, alternates scenes between the past and the present and draws comparisons. On occasion, the ancient and modern even come together, not always comfortably.
In particular, as Faust is making his pact with Jake Maskall's mad-eyed Mephistopheles, the Chapmans are entering into their own hellish pact first, buying the Goya drawings that have been hidden away for decades and then presenting their own version of Hell at the Royal Academy in Saatchi's 1997 Sensation exhibition that lived up to its name.
The play can get lost in its own complexities particularly when Foster's camerawoman Helena reveals her Afghan background and tells the tragic tale of the simultaneous loss of her brother and two priceless statues.
Her purpose is to give the Chapmans their own Helen to parallel the fair Trojan that Faustus meets at the zenith of his glory. The contemporary version begs the brothers to leave the Goya sketches untouched, seemingly regarding them as of as much significance as her own dead brother.
Rupert Goold directs with a painterly eye that catches the moods of the two periods and is enhanced by Malcolm Rippeth's subtle and vibrant lighting, as needed and Adam Cork's lively soundscape.
This play is probably far more for those who are into or even revile Brit Art than lovers of classical theatre but at times it can be both moving and exhilarating. If nothing else, like each of its progenitors it is bound to be controversial and that always sells tickets and provokes discussion.
Reviewer: Philip Fisher