Faust
Adapted from Goethe by Nína Dögg Filippusdóttir, Gísli Örn Garðarsson, Carl Grose, Björn Hlynur Haraldsson and Víkingur Kristjánsson
A Vesturport and Reykjavík City Theater production, co-produced by Theatre im Pfalzbau
Young Vic
(2010)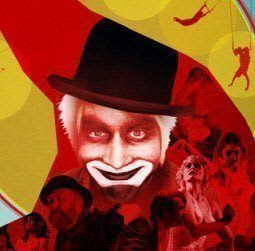 Icelandic company Vesturport would probably be delighted at the suggestion that they are anarchic. There is really no other word for their work, which at its best takes a classic and rips it apart but enhances the spirit with amazing visual and performance values.
Under the direction of Gísli Örn Garðarsson, Faust does not quite live up to that billing as, despite the efforts of five writers, their take on Goethe's text never really takes off, unlike the performers who happily defy gravity, using the space above the audience as an adjunct to the stage.
The initial premise is that Johann, a former actor living in a home for the aged, yearns for a little passion with cheery Nurse Greta (Unnur Ösp Stefánsdóttir). She is kind but not that kind, although, since this is Christmas, perhaps dreams can come true.
After a suicidal exit, Johann becomes part of a geriatric nightmare that starts with the arrival of Hilmir Snær Guðnason playing Mefisto and his two sidekicks, Asphodel and Lilith (Björn Hlynur Haraldsson and Nína Dögg Filippusdóttir).
They offer Johan a Faustian pact, get the girl and lose your soul. By that age and dead anyway, what can there be to lose? In our man's eyes nothing, so he enters the first circle of Hell and after a relatively turgid quarter-hour opening the fun begins.
For the remaining couple of hours the Icelandic anarchists dip in and out of the myth concentrating far more on the form than the text, which mixes modern humour with rhyming couplets.
One novelty is that the Faustian Johann at one point has a body swap with Asphodel, allowing both Þorsteinn Gunnarsson (at the start) and Björn Hlynur Haraldsson (as the younger, macho version) to play the same leading role.
The cast has been selected for acrobatic skills and, to the accompaniment of an inevitably dark score from Nick Cave and Warren Ellis, show off their talents.
This involves them in much work on the safety net, as well as appearances via trapeze and ropes and flying/falling. There are rock songs and wheelchair dances, fights and many other types of immaculately lit spectacle but anyone expecting to enjoy the story immortalised by Goethe and Marlowe in relatively pure form will be disappointed.
Fans of performance art though will be in seventh heaven (or hell) enjoying an evening like no other. Lovers of text might not be quite so enthusiastic.
Playing until 30 October
Reviewer: Philip Fisher