Fewer Emergencies
Martin Crimp
Royal Court Theatre Upstairs
(2005)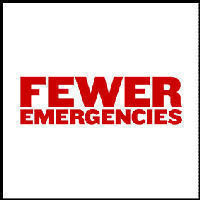 Martin Crimp's most famous play is Attempts on her Life. His latest, hour-long piece could easily have been christened More Attempts on her Life.
Fewer Emergencies consists of three short dramas that take his audience into a sinister world that brings to mind the plays of such writers as Caryl Churchill, Wallace Shawn and the late Sarah Kane.
The last analogy may not be entirely surprising since the director is James Macdonald who has directed three Kane plays at the Royal Court although not the one that this most closely resembles, Crave.
For most of the time, three actors languidly deliver lines which together build up to portray a series of events that may be linked.
In the first piece, entitled Whole Blue Sky, they sit in Tom Pye's white box theatre (even the audience's seats are covered in white cloth) and gradually reveal a tale of an unhappy marriage from the wife's side. The description by one person is corrected or enhanced by comments from another with an overall impression of some film producers or screen writers optimising their script.
What starts as passion becomes marriage and soon enough motherhood gives way to hatred. Perhaps the only thing holding the marriage and the schizophrenic wife's mind together is young Bobby, their first born.
This is mildly unsettling but nothing compared to what succeeds it. As soon as the blood red lights for Face to the Wall come up, a sense of unease takes over.
This is a dispassionate look at the slaughter of children at a junior school. It is Columbine or Dunblane revisited, as Crimp attempts to get into the mind of a murderer whose life is pluperfect but who inexplicably gets up one morning intent on massacre in a Disney-like dream world.
The last, title piece is a short tale that has echoes of its predecessors as we hear of parents on the edge of the world and their abandoned son, Bobby, trapped in his own little horror story.
Part of Crimp's message is in the delivery which, like that in Attempts, suggests that one should not always believe all that one hears. The stories are by no means smoothly related and on occasions, mistakes must be corrected. Indeed, the sole purpose of Paul Hickey's character in the second piece is to act as prompt for Neil Dudgeon's. He does, though, get his moment of glory as he delivers a non-sequitur blues song about a postman in need of his sleep.
Macdonald's direction is careful with the tiniest move or stutter plotted and as a result, his actors exert a real hold over the audience. The two men mentioned above are supplemented by Tanya Moodie and Rachael Blake and all four contribute good performances.
The rendition of horror stories in a quaint way can make them seem even more terrifying. By bleaching his play of all action, Martin Crimp, like the writers of Greek tragedies, relies on poetic storytelling to take us from the minor disappointments of an unhappy marriage into a contemporary world where random terror may at any moment be ready to stalk us.
Reviewer: Philip Fisher