Fibres
Frances Poet
Citizens Theatre and Stellar Quines
Citizens Theatre, Glasgow
–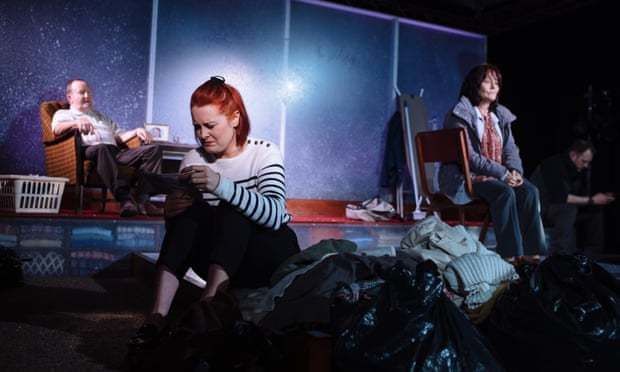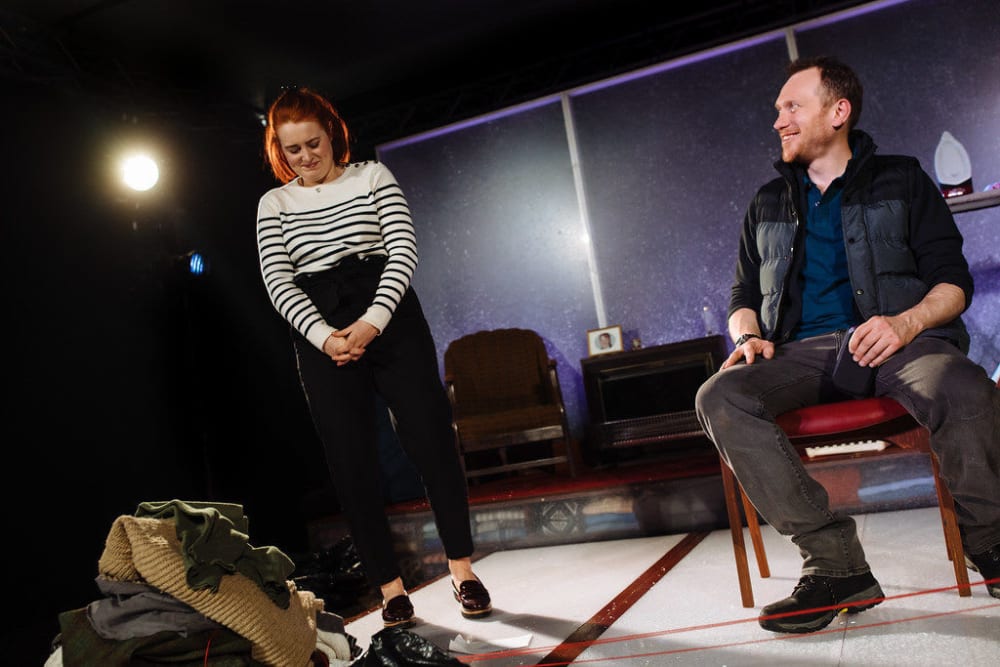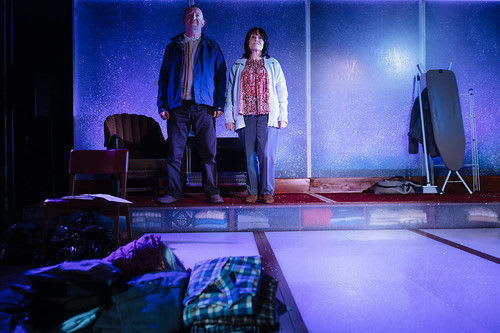 Fibres is a rather beautiful, sad, allusive play that is unexpectedly reaching a much wider audience than originally anticipated, thanks to a combination of coronavirus and the World Wide Web.
The original co-production between the Citz and Stellar Quines played on stage at a number of Scottish venues last year and has now been recorded in a socially distanced version that runs for 85 minutes. Its starting point is the long, generally happy marriage between Maureen Carr's Beanie and Jonathan Watson playing Jack.Sadly, by the time we meet the couple, Jack is suffering from terminal cancer, picked up during a career working in the Clydeside shipyards.
As a result, Beanie has become an expert in all matters relating to asbestos and the cancers that it causes. The degree of academic expertise is something of a surprise even to her, having left school at 16 and worked in a laundry, rather than following any kind of intellectual pursuits. She proves to be a kind, willing carer, uncomplainingly supporting Jack, although a number of the manifold metaphors that run through the play make it clear that, for this generation, a wife's place was labouring in the home, while her man put his feet up.
The terrifying development that eventually takes on an inevitability becomes apparent as Beanie is diagnosed with the same cancer, caught at one remove while spending decades diligently washing her husband's work clothes.
Their story is both viewed and given perspective by their daughter Lucy, portrayed by Suzanne Magowan. Working as administrator for a cable-laying company, she is massively unfulfilled, struggling to carry on a legal battle in an effort to right some of the wrongs resulting from her parents' illnesses while missing them desperately.
Lucy is really out of it, sleeplessly living in a world of her own, even coming up short when trying to break out by presenting a careers lecture to a group of ungrateful seven-year-olds. She causes further problems by driving her boss Pete, played by Ali Craig, to distraction over a missing document. However, he has his own inner demons, never fully recovering from his own parents' broken marriage.
Each of these unhappy people is boiling over, the parents filled with resentment about the loss of what could have been many happy years of retirement, while the younger pairing are obsessed with their own perceived inadequacies.
At one level, this is a play about resignation and bereavement; on another it is a siren call to the political hierarchy, always keen to support profits over the best interests of the workers.
Although it may not have been intentional, this proves to be a timely metaphor, given the constant balancing act of the current government when it comes to saving lives against protecting the economy.
Without wishing to give the ending away, this is a touching, thought-provoking play that is worth watching right through to a deeply satisfying closure. Fibres entertains and challenges and, in doing so, should achieve the goals of both its writer, Frances Poet, and director Jemima Levick, spreading an important message while drawing moving performances from all four actors.
Reviewer: Philip Fisher